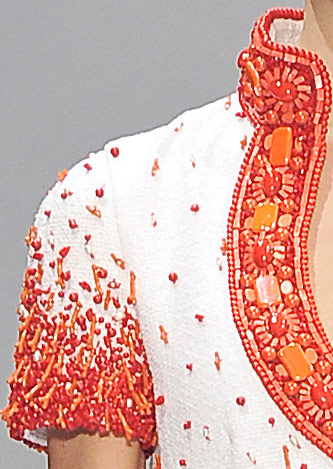 ANDREW GN
spring/summer 2009


A woman who does not fit the classical definition of beauty
Paris based couturier Andrew Gn (born 1966 in Singapore) culminates in his work everything that makes high-end fashion: the uniqueness of the fashion piece, bejewelled fabrics, rich embroideries, hand woven silks and wools ... For this collection Andrew Gn was inspired by Helena Rubinstein - a pioneer in making a career out of beauty, art lover and good friend of paitners such as Pablo Picasso and Dali - returning from a trip to India.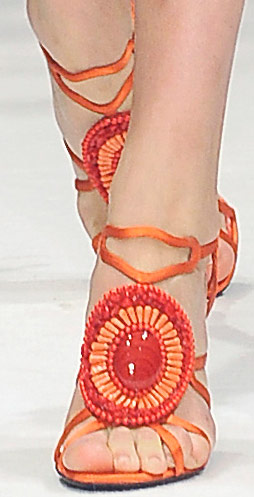 fig.: Tweed dress embroidered in dégradé with coral beads and baroque pearl beads; jewellery and shoes by Andrew Gn Ready to Wear spring/summer 2009, Paris Fashion Week, September 2008. Photo: Marcio Madeira
"I chose her because she was a woman of perfect style, who wore couture and owned extravagant pieces of jewelry, yet she did not fit the classical definition of beauty. She may not have been body-perfect, but she was a formidable businesswoman, art collector and an utterly modern thinker. Her taste reflected a perfect balance of beauty and reality. This collection also marks the launch of my Atelier line, which I created in homage to all the premières and petites mains who work with me. This line is the culmination of everything I believe in when it comes to high-end fashion." Andrew Gn

Helena Rubinstein once said: "It would be impossible to make a career out of women's beauty without loving the world of art with passion."
Helena Rubinstein was born 1872 in Poland and died 1965 in New York. She opened the first beauty salon, revolutionized the beauty advice at the point of sale, targeted skin care treatments according to skin type, invented the first automatic mascara ... In her eyes, both scientists (dermatologists, ...) and painters have the same goal: beauty. fashionoffice.org/who/rubinstein3-2005.htm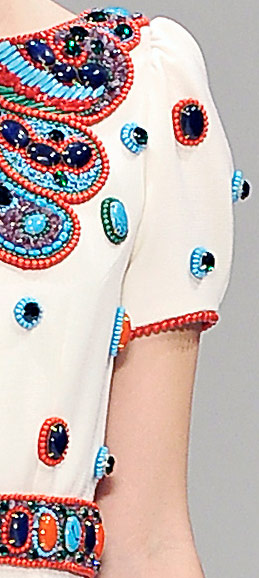 fig.: Silk dress inspired by a 19th century Kashmir shawl, embroidered with coral-colored beads, turquoise and amethysts; jewellery and shoes by Andrew Gn Ready to Wear spring/summer 2009, Paris Fashion Week, September 2008. Photo: Marcio Madeira
1986 Andrew Gn began to study at the renowned Saint Martins School of Art in London. 1989 he completed the school with the Bachelor of Art. During the same time he participated in the Design Exchange programme at Parsons School of Design. 1990 Andrew Gn moved to Milan to attend the prestigious Domus Academy. His professors at the Domus Academy: Romeo Gigli, Luciano Soprani, Anna Piaggi, and Gianfranco Ferre. Andrew Gn received his Masters of Art in 1992. In the same year he assisted Emanuel Ungaro in Paris. 1996 Andrew launched his own collection Andrew Gn. One year later, 1997, Andrew was the Creative Director for Balmain for one season - he was the first Asian leading a French Fashion House.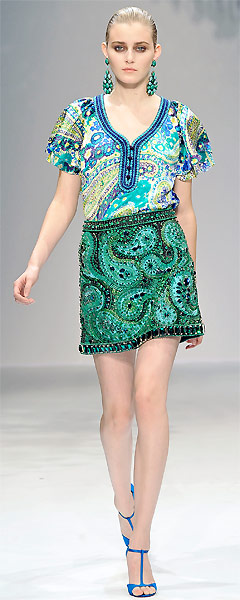 Andrew Gn is available worldwide: Bergdorf Goodman, Barney's New York, Kirna Zabête, Neiman Marcus, Vivre.com ...
Andrew Gn inspired by women and art
Women and art inspires Andrew Gn's collections; for fall/winter 2004/5 it was the Hollywood leisure chic of an aristocratic diva, personified by Wallis Simpson, the later wife of ex King of England fashionoffice.org/design/andrewgn9-2004.htm.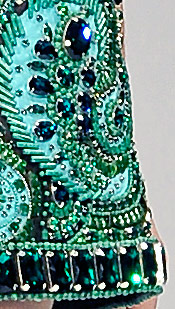 The fall/winter 2006/7 pieces in Victorian style of the 19th century are inspired by the "Danish Landscape" by Russian painter Nikolai Nikanorovich Dubovskoi, 1898; a romantic story fashionoffice.org/collections/2006/andrewgn6-2006.htm.

For the spring/summer 2008 collection the couturier works with the impressions he got as a child from reading « Buffon's Histoire Naturelle » a hand-coloured illustrated book about Mother Earth fashionoffice.org/collections/2008/andrewgn1-2008.htm.
fig.: Paisley silk blouse with passementerie details and shantung silk skirt embroidered with blue satin and malachite: jewellery and shoes by Andrew Gn Ready to Wear spring/summer 2009, Paris Fashion Week, September 2008. Photo: Marcio Madeira


more collections>>>


Video: Andrew Gn Spring/Summer 2009 at the Paris Fashion Week in September 2008 by Fashion Network fnetwork.tv. Fashion, jewellery, shoes by Andrew Gn; hosiery by Wolford; hair Seb Bascle; Make-up Karim Rahman.