BY MALENE BIRGER
spring/summer 2009


Flirt with a new concept of cool

Danish designer Malene Birger presented the new By Malene Birger spring/summer 2009 collection which centers around the theme "flirtation" on 8th August 2008 at Tappehallerne in Hellerupduring during the Copenhagen Fashion Week (6 -10 August 2008).
"Using your personal power and making room in your life for your life. A classy collage of modern, futuristic sophistication, showing strong willed silhouettes, couture curves and a unique homage to bondage."
By Malene Birger spring/summer 2009 is mixed of 50's styled voluminous, high waisted pleated skirts and contoured couture lines such as corsette like belts and bondage boots in contrast to sleek 70's dresses and florescent swimwear separates. The designer's motto for 2009 is "the pleasure principle".
"The pleasure principle"
Sexy pencil skirts, dresses (fall above or right below the knee) and shirts with drapery, pleats, or gathered at the shoulders in the natural tones sand, bamboo, cream white, bright white, brown and black; accentuated by Neon in coral and vivid yellow.
Alongside you will find bright pastel colours, such as soft coral, bright lilac lavender, deep purple orchid, cool poolside green, mustard yellow and turquoise aquatic.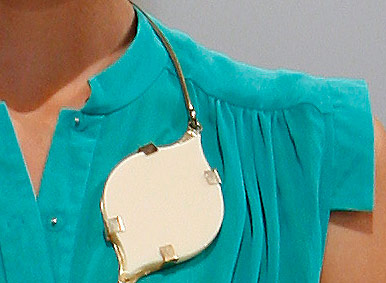 "Create a little lust with latex looks in leggings."
By Malene Birger comes in nature and synthetics from semi to high shine such as metallic silk
yarn and mercerised wool mix.




Luxurious Artwork

Malene Birger signature hand painted prints appears in duo tones like cream and black. For example you will find in this collection a crazy, paisley floral print in bright colours and a Matisse like sketch of a woman lying down as a subtle suggestion for you to relax and do the same. Artful beads, sequins, crystals and cotton balls are used for floral themes or to add luminescence on some of the pieces.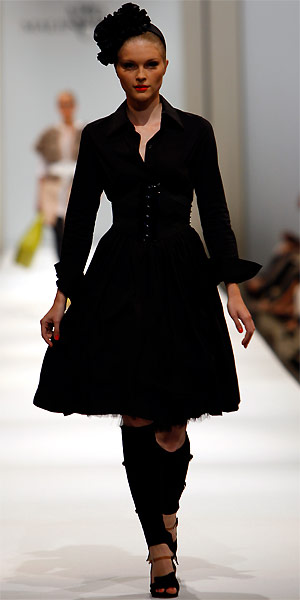 About Malene Birger
"The best way to break through is to keep it simple and to focus."

Malene Birger Denmark designer Malene Birger completed her degree at the prestigious Denmark's Design School and became a fashion designer with Jackpot by Carli Gry. She moved to Stockholm to join Marc O'Polo and was promoted to Head Designer for the women's line. She returned to Denmark, established her first company, Day Birger et Mikkelsen, and won the Danish Design Award. Malene later left Day to be a concept developer for a variety of major fashion brands in Denmark. Today Malene Birger has her own fashion label for classic elegance clothing with an edgy, sexy look. Her fashion echoes style icons from the past into the present. Birger creates wearable stories with a mix of metaphors taken from popular culture ... fashionoffice.org/who/malenebirger1-2008.htm
In 2008 Malene Birger designs a unique Fiat 500. Introduced in 1957, it was recently re-launched and voted Car of the Year 2008 (confashion.com/fw2007/fiat12-2007.htm). Malene Birger's designed Fiat 500 will be sold at auction and all the profits will go to UNICEF.
By Malene Birger is available in over 37 countries and has own boutiques in Europe and the United Arab Emirates. More franchise boutiques are in the works for 2008 and 2009 in the Middle East and Europe, as part of a brand new By Malene Birger franchise concept www.bymalenebirger.com.


fig.: Copenhagen Fashion Week By Malene Birger Spring / Summer 2009. Photos © Helle Moos + 45 40 35 97 40.


Check out the video on copenhagenfashionweek.tv


more collections>>>