DICK & JANE
summer 2008

"Ready.Any Time"
In July 2008 men's underwear and shirt producer Dick & Jane (founded in 2005) opened its first Austrian flagship store in the Viennese Ringstrassen Galerien; flagship stores in Kazakhstan (in the cities Almata and Astana), Moscow and Berlin will follow.
Brano Altus, Brand Manager Dick & Jane, describes the Dick & Jane man for the clean business as well as cool contemporary casual outfits as a male who is conscious of his masculinity and expresses his personal style - with his behaviour and the fashion he wears. The motto of the Dick & Jane man is "Ready.Any Time".
fig.: Dick & Jane "Olympic" collection 2008, fashion slip with stripes, black. Photo © Dick & Jane
"Olympic" is the title of the current collection. The minimalistic empire designs in black and white with eye catching lemon and avocado in stripes and ornaments are inspired by the wardrobe of the athletes of the Olympic Games in Old Greek. For this collection the designers from Büro Chromosome XY have worked together with European fashion and textile specialists.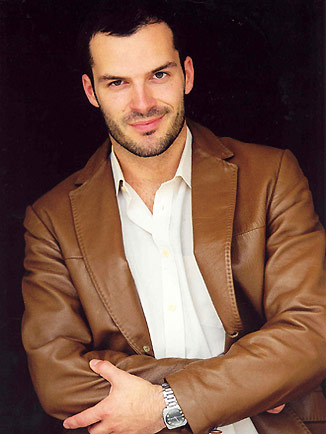 Bruno Altus about Dick & Jane
Question: Dick & Jane sounds like Tarzan & Jane. Is this association intended?
Brano Altus: There is not an association with Tarzan & Jane directly. The interpretation of the label's name is open for the customer's fantasy. Dick & Jane stays for contrast, irony, provocation and dualism.
fig.: Brano Altus, Brand Manager of Dick & Jane. Photo © Brano Altus
Question: How would you describe the man who wears Dick & Jane?
Brano Altus: D&J designs fashion for upwardly mobile contemporary individuals; for self-confident, cosmopolitan men who are more familiar with the business lounge than their own desk.

Men who are travelling a lot have special requirements for their clothing. These men attach greater importance to expressing their own personal style than simply following the latest fashion trends. Dick & Jane is for flexible men who come in contact with a wide variety of people every day and experience a great range of different situations. The D&J man doesn't look at himself too seriously and he can laugh about himself. READY.ANY TIME
Question: On your website dickandjane.eu you publish the list of stockists; most of them are in Austria and Russia. Why have you started to sell Dick & Jane with a strong focus in these two countries?
Brano Altus: It was a logical consequence of the company's background. The owner Sergey Khomyakov came from Russia to Vienna seven years ago and he falls in love with the city and the beautiful Austrian countryside. The contact to Russia was always here and it is a still growing market with big potential which we want to use as a western label. But we have ambition to operate International and these locations are only the beginning.
Question: In 2005 the label was established. Why was Vienna chosen for headquartering the label?
Brano Altus: Vienna is our base because the owner and investors are mostly living here and we believe on creative potential of Austrian designers and specialists. Vienna is also for the geographical location a strategic traditional place between east and west and it is a good starting point to many other international destinations.
Question: In mid July 2008 the first flagship store in the Viennese Ringstrassen Galerien opened. What's the concept of the interior design of the shop?
Brano Altus: The first flagship store in Viennese Ringstrassen Galerien is clean, functionalistic and minimalistic which will be the concept also for the future flagships. The view of the customer is concentrated on the product. Ready.Any Time – our claim work also in the shop: the items and colour combinations are visible on the first view. The shop is 44m2 - this size makes the shop transparent. The place has smooth, natural accent on wooden cash task table and on the small presentation table. The fresh room feeling comes from the shop's lime colour on the sides. The concept was realised by leading Austrian and international company – Umdasch.
Question: What can a woman find in the new Dick & Jane store?
Bruno Altus: Dick and Jane is a pure menswear label at the moment. Women can find a friendly store atmosphere with professional service and for example nice sexy underwear for her friend or husband as many women do ...


Now, if any of you girls thought she could find something else: try it out, Jane! Dick & Jane is available in Russia, Kazakhstan, Central Europe and US. Check out stores offline and online at www.dickandjane.eu.