GANT
fall/winter 2008/9


Plant 25 trees with 1 bag!
Gant in collaboration with Jane Goodall
From October 2008 on, the US label Gant supports the Rebirth the Earth project in Tansania with the Jane Goodall campaign in over 70 countries. You can be part of the campaign by buying a Gant "hope" bag (limited edition of 10.000 pieces) made of organic cotton. Let around 25 trees grow in the forests of Gombe in Tanzania with one bag!

Jane Goodall is one of the most celebrated and fascinating women in the world. For her untiring struggle for the environment and those who inhabit it, she has been compared to Gandhi, Nelson Mandela and Mother Teresa.
Jane Goodall was born in Bournemouth in the southwest of England in 1934. Although it was unheard of for a woman to venture into the wilds of Africa back in the summer of 1960, Goodall settled down in Gombe in Tanzania to begin what would eventually become the longest uninterrupted field study of animals ever made.

Jane Goodall began her landmark study of chimpanzees in Tanzania in June 1960, under the mentorship of anthropologist and paleontologist Dr. Louis Leakey. Her work at Gombe Stream would become the foundation of future primatological research and redefine the relationship between humans and animals.
Among other things, she surprised the scientific research community with her revolutionary observations of chimpanzees using and making tools and behaving in ways once considered unique to humans.



fig.: (C) Gant; check out where to buy the bag www.gant.com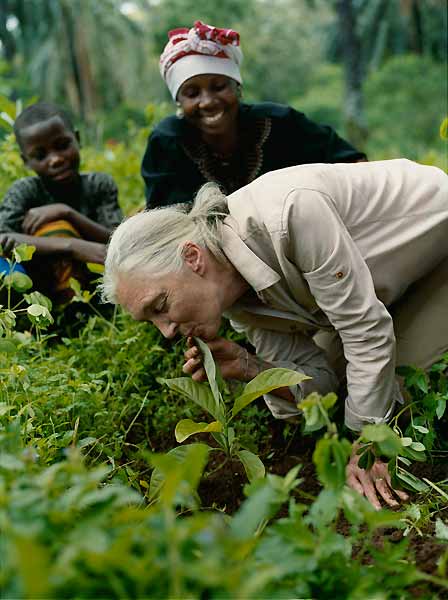 In 1977 Jane Goodall founded a research institute in her name. Fourteen years later she founded Roots & Shoots, an environmental educational program that involves tens of thousands of passionate children and young people in almost 100 countries around the world.
Dr. Goodall travels an average 300 days per year, speaking about the threats facing chimpanzees, other environmental crises, and her reasons for hope that humankind will solve the problems it has imposed on our planet. She continually urges her audiences to recognize their personal responsibility and ability to effect change through consumer action, lifestyle change and activism.

"We only have one planet, but the way we live today, we would need another five," says Jane Goodall. "Above all we must realize that we can't live a single day without making an impact on the world. And we all have a choice about what sort of impact we will make."
She continues:
"I am so pleased that we've teamed up with Gant. By collaborating with corporate partners who share our values and embrace our mission, I'm confident that together we can make the world a better place for all."

Jane Goodall's groundbreaking research has been honored with numerous prestigious prizes and academic awards. Among them, she has been made a Dame Commander of the Order of the British Empire by Queen Elizabeth II, Kofi Annan has named her a UN "Messenger of Peace' and she's been awarded the prestigious Kyoto Prize.
"We are extremely proud to be working with Jane Goodall. She is living proof that with passion, determination and empathy it is possible to make positive changes for others. Her commitment goes far beyond our comprehension, as she spends all her time on the road working for a brighter future for the next generation. Gant and our customers strongly believe in the individual's power to achieve positive changes and we can't think of a better spokesperson for that," says Dirk-Jan Stoppelenburg, CEO of Gant AB.


more collections>>>


Video: The History of the Jane Goodall Institute
Publications
Dr. Goodall's list of publications includes her latest book Harvest for Hope: A Guide to Mindful Eating, two overviews of her work at Gombe - In the Shadow of Man and Through a Window - as well as two autobiographies in letters, the best-selling autobiography Reason for Hope and many children's books. The Chimpanzees of Gombe: Patterns of Behavior is the definitive scientific work on chimpanzees and is the culmination of Jane Goodall's scientific career. She has been the subject of numerous television documentaries and is featured in the large-screen Animal Planet specials-Jane Goodall's Return to Gombe, Jane Goodall's State of the Great Ape, Jane Goodall's Heroes, When Animals Talk and most recently, Almost Human.

Check out www.janegoodall.org