PIERRE LANG
fall/winter 2008/9


Temptation

The Austrian trend jeweller Pierre Lang has entitled the current collection "Temptation"; pendants, bracelets, brooches, chains, earrings, rings,... come in different styles from classical elegant, over rock meets metal, sportive, arty,... to make it easier changing styles with some eyecatching pieces.

For Pierre Lang "Temptation" expresses the lust for fashion such as combining a chic pair of shoes with perfectly fitting jewellery. On their website pierre-lang.com you can find trend tips for selected months. In September/October 2008 the Pierre Lang motto is "Express Yourself". Presented are 3 pieces of jewellery which can be used for elegant, sportive, and arty style.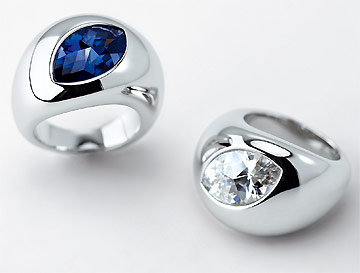 A heart that rocks!
Pierre Lang offers for the pieces of the new collection tips to combine them with special outfits; such as for the necklace on this site, a chain with a rocking heart, can be worn with a casual jeans as well as an elegant evening gown.
The heart gets its rock/metal style through its eyed decoration. If you wear it with an elegant gown in the evening combine it with the "Eldorado" cocktail ring.
fig.: Eldorado ring. Photo: Pierre Lang


About Pierre Lang
1961 the brothers Hans and Peter Andersen have established a small handicraft business producing exclusive fashion jewellery collections for the wholesale trade and renowned brands. In 1984 the Andersen family creates the Pierre Lang brand and starts to establish its own distribution and sales system.
Pierre Lang, today one of Europe's most important jewellery manufacturers, is still an Austrian family company. The products are available in 12 countries. Around 1,000 employees produce 5 million pieces of jewellery. Some 6,000 freelance jewellery consultants introduce millions of customers to the world of Pierre Lang jewellery.

Check out the Pierre Lang Website for more information about the "Temptation" collection www.pierre-lang.com.


more collections>>>


fig: Connexion necklace - rhodium-plated curb chain necklace with handmade links and a stud-embellished motif. Eldorado ring. Photo: Pierre Lang