ROXY
fall/winter 2008/9


Retro Punk of the 80s
The Roxy fall/winter 08/09 collection is inspired by vintage fashion and rebellious punk. The 60s, 70s, and 80s come back with explosive colors and punky Scottish tartan.

Video: Check out this amusing video: bord riding Roxy girls in a fight!
The title of the video is "Don't Pick a Fight with Torah Bright". This is one of Roxy's podcasts which they are offering on their site. The Roxy girls in this video are top female snowboarders!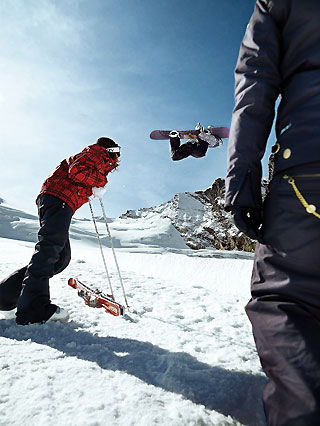 For Rebellious Girls
Roxy's snow collection is divided in 4 lines. 2 of them are:
The "Prep School Punk" like on this picture (right) wears a 80s punky Scottish tartan jacket and high waisted trousers. The outfit looks at the first sight very classical and reserved - but who knows the girl behind?
You can make the outfit punkier with a removable red Scottish micro-kilt, worn over black (technical) stretch pants or an all-in-one dungarees, printed with black and grey hound's tooth.

"Retro Fashion" is the 60s, 70s vintage theme like on the picture below, worn by Italian rider Tania Detomas. The oversize printed naive, floral graphics, are mixed with tweed and velvet as well as monochromes in green brown, khaki. A new technique, Print Gel is used to create shiny and transparent gel effects on the Gore-Tex® line, with a trompe l'œil effect for a sports fashion look.


The New Website
On 15th September 2008 Roxy Europe presented a new website with a premiere: now you can shop from approximately all European countries, the US, ... on roxy.com.
Check out the collections, videos, podcasts, favorite music playlist of bordriding girls on www.roxy.com.