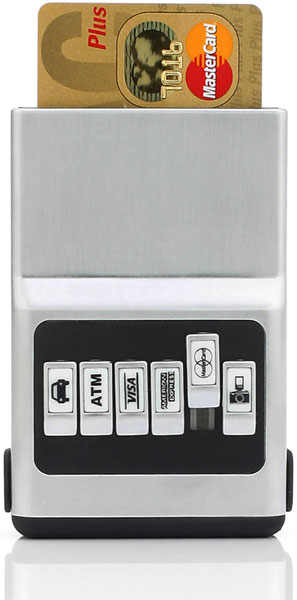 ACM
spring 2009


Protective case for cards
Where to store driver's license, identity card... while biking? Bikers, drivers with small handbags and the ones who enjoy smart, protective wallets will like the card case.
In the last years the usage of personal cards in the format of credits cards such as driver's license, health insurance... increased even in Europe. Since 2007 the patented card case by the American label ACM is available in Europe and Middle East.
The acm (in silver, black, or silver/black) offers place for up to six cards which are easy to handle with the interchangeable buttons. Via the removable money clip you are able to store cash money and business cards easy.
Question: Between how many buttons can be chosen?
ACM Europe: The acm comes with 18 interchangeable buttons to personalize the acm to the need and cards that the customers have. The buttons are: Car / driving licence, Maestro, 2x MasterCard, Visa, American Express, ATM, Discover, Medical, Gas, Phone and 6 colored icons.

Question: Why is the format of cards for banking, driving licenses… internationally used?
ACM Europe: More and more methods of payment are digitized, and everybody confronted with cards day by day. The introduction of ISO standards 7810 has standardized the credit card format. Therefore, more and more cards introduced (health card, driving license, Payback, etc.) in daily life.

Question: The card is the carrier for the chips with information such as health data, account information… These cards are made of hard plastic. How can a chip be damaged?

ACM Europe: Thanks to its patented technology there are no lost or damaged cards any more. Scratching the chip as well as the demagnetization of the magnetic strips have an end. The main cause for the "break" of the chip or magnetic strip is the contact and friction with other cards. This have finally an end with the acm. Every single card will be select and protect separately.

Check out details about the ACM card case www.my-acm.eu.


more collections>>>


Video: Ferrari Kessel Racing Event video; a MadBall.ch production.
ACM has released a limited KESSEL RACING Edition.
On the website of ACM you can win a VIP Weekend at the Ferrari Challenge in Imola from 16th to 17th May 2009. You can join until 30th April 2009 https://www.my-acm.eu/win/.