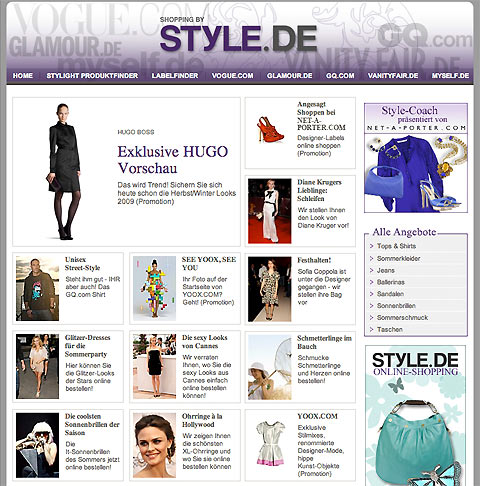 CondéNet
summer 2009


Fashion journalism online
In June 2009, the online extension of the publishing house Condé Nast (Vogue, GQ, Glamour...) 'CondéNet' announced new features on their online destinations: Style.de, the e-commerce channel of CondéNet's fashion publications opened the exclusive Hugo Boss store, and Vogue.com started with live-twitter reports from Berlin on occasion of the Berlin Fashion Week.
Condé Nast was founded in 1909 by Condé Montrose Nast (born 1873 in New York). His first publication was the small but elitist New York magazine Vogue which started already in 1892. In 1914, Nast launched Vanity Fair.

fig.: Screenshot Style.de, June 2009.

E-commerce channels Style.de
Since March 2009, Style.de powers the shops of Glamour.de, Myself.de, Vogue.com, Vanityfair.de, and GQ.com. The online stores are enriched with editorial background information, tips and services for shopping, styling and fashion. In the directories 'News' and 'Best Buy', Style.de posts highlights and special offers. The technology of the e-commerce channel comes from Stylight.de which provides in June 2009 more than 150.000 products.
In May 2009, the Hugo Boss online store was first launched style.de/hugoboss.
Live-reports from the Berlin Fashion Week
CondéNet's growing activities are reflected by another media alert which came out in June 2009: the editors of CondéNet will report between 1st and 5th July daily from the Berlin Fashion Week. On Vogue.com you can find editorial specials about edgy designers and their collections. The reporter-team of CondéNet will produce interviews with German and international fashion professionals with backstage information for Vogue.com, Glamour.de und GQ.com directly from the runways.
German Vogue chief editor Doris Huber has already started 'twittering' from the pre-Berlin Fashion Week on twitter.com/VOGUE_COM; her colleague Krischan Lehmann twitters from a male point of view for GQ.com on twitter.com/GQ_com.


more collections>>>