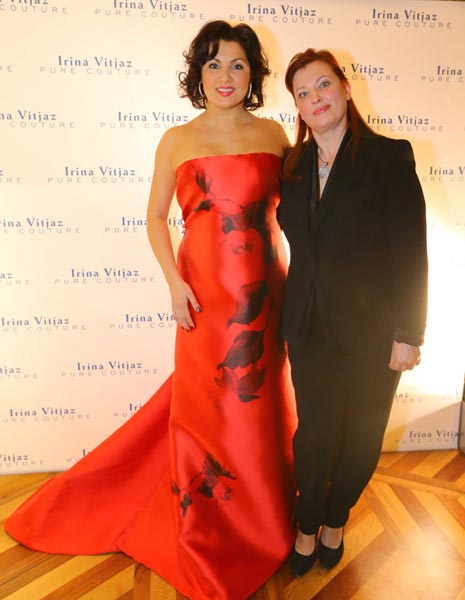 Anna Netrebko at Irina Vitjaz 'Pure Couture' presentation
On 8 December 2014, Irina Vitjaz presented the 'Special Christmas Collection' of evening gowns in front of illustrious guests such as opera singer Anna Netrebko at hotel Imperial in Vienna. The singer appeared also in one of Irina Vitjaz' couture dresses in signal red with decent floral print on the catwalk.
For the festive gowns in gold, silver, shimmering black, cinnamon and deep forest green, the couturier was inspired by winter fairy tales and the golden age of Hollywood. Irina Vitjaz counts currently to one of the best ball gown couturiers in Vienna and is known for delivering clothes to celebrities like Anna Netrebko who is depicted in several Facebook posts in Vitjaz' couture.
fig. right: Anna Netrebko and Irina Vitjaz at the 'Special Christmas Collection' presentation on 8 December 2014 at hotel Imperial in Vienna. Below: Runway view. Photos: (C) Conny de Beauclair.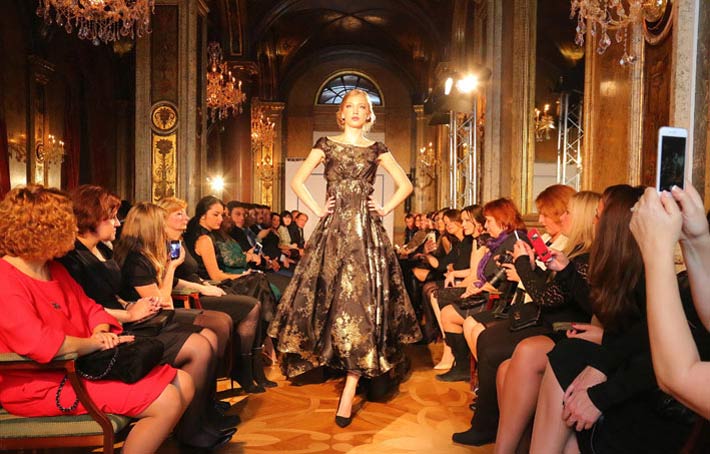 more collections>