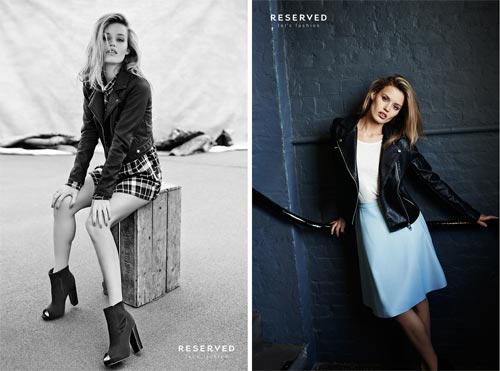 Reserved's campaign AW14 invites to play with styles
In June 2014, Polish fashion retailer Reserved (women, men, kids - belongs to LPP S.A.) presented the new campaign AW14 with Georgia May Jagger as ambassador of the three styles (elegant Modern Line, casual Street Fashion, and experimental Young Fashion Lab) on occasion of the label's market entry this year in Germany. On 10 July, Reserved will show the new collection on the runway with launch party at Berlin Fashion Week. The German online shop opens already on 1st July; between September and November stores in Stuttgart, Hannover, Bremen and Recklinghausen will follow.
fig.: The campaign photos follow the motto of Reserved AW14 'Let's Fashion!' which invites to play with styles and trends such as on view on the two ads above with a motorcycle jacket as center piece which is combined with checked short item in punk-rock 'Street Fashion' style and - on the image beside, a similar motor sports inspired jacket is worn in elegant fashion with knee-length skirt. On the images below, Reserved ambassador Georgia May Jagger wears the probably stylistically most confident (practically for many occasions) combination in 2014 - black leather-like slim pants, wide black pullover, and coat with 60s sailor touch. Image right, below: Classical black fake-fur coat and folder bag; parts of the coat such as the sleeves appear as inside-fur. Photos provided by Reserved in June 2014; author "M.STANKIEWICZ " All rights reserved.