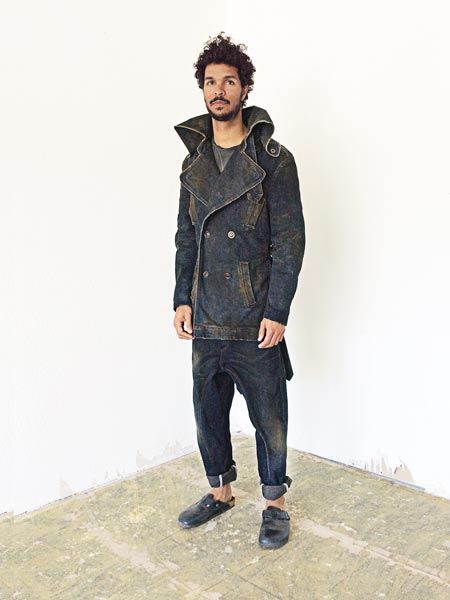 fig.: Hobo coat and Anti Classic jeans (salt) by Balagans from the new true indigo denim collection (limited edition), exclusively available at Wormland in Berlin and Hannover on occasion of Berlin Fashion Week July 2015.
18 June 2015
Wormland cooperates with Balagans, recently listed as one of the world's 'Denim Dudes'
On occasion of Berlin Fashion Week (6 - 10 July), German men's fashion store chain Wormland will release in cooperation with denim label Balagans an exclusive collection of 11 items which will be available in limited edtion (10 pieces per design) at the retailer's shops in Berlin and Hannover.
Founder and designer of Balagans is Philip Rudzinski (artist name: Philip Rudjeanski), who finished his studies in media & design, fashion design at the University of Applied Sciences and Arts Hannover and focused additional trainings on the research and development of denim fabrics. Already during his studies, he founded his own label Balagans in 2011.
Philip Rudzinski received several awards such as in 2013 the 1st prize at the European Fashion Award FASH; the jury mentioned criteria like innovative patterns and washes (jury statement). His label Balagans was listed recently as one of the world's 'Denim Dudes' in the eponymous publication; Facebook post below.



more collections>