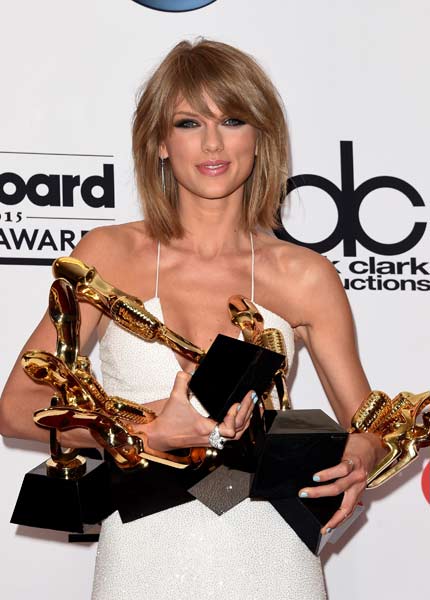 22 May 2015
The Tiger ring of Taylor Swift
...seen at the 2015 Billboard Music Awards, is from the 'Bestiario' collection by the Spanish jewellery house Carrera y Carrera. The musician selected it recently for her appearance on 17 May in Las Vegas where she received eight awards in top categories (incl. Top Artist) which made her the most successful musician. On the same day, Taylor Swift presented her new music video 'Bad Blood ft. Kendrick Lamar' with various celebrities like Selena Gomez, Jessica Alba, Cara Delevingne, Cindy Crawford (to mention a few from a long list; check the video's credits). The new video received in five days more than 45 million views on YouTube.
fig.: Musician Taylor Swift poses in the press room with her eight Billboard Music Awards; Swift won Top Artist, Top Female Artist, Top Billboard 200 Artist, Top Billboard 200 Album for '1989,' Top Hot 100 Artist, Top Digital Songs Artist, Top Streaming Song (Video) for 'Shake It Off,' and Billboard Chart Achievement Award during the 2015 Billboard Music Awards at MGM Grand Garden Arena on 17 May 2015 in Las Vegas, Nevada. Photo by Jason Merritt/Getty Images; (C) 2015 Getty Images.
fig.: The Tiger ring from the 'Bestiario' collection by Carrera y Carrera is made of white gold, smoky quartz and diamonds. Taylor Swift isn't the first prominent musician who selected the Tiger ring: Madonna and Jennifer Lopez were seen with it already. Photographed by (C) Yolanda Ramos.