12 December 2016
Fashionoffice mountain outfit tip for early 2017: bright colors, florals and sweet scents
The candy colored flower and nature inspired outfit tip on this page is intended for early 2017 activities in the alps. Even when it's currently not very cold in Middle Europe, the snowy and icy days will come. Perhaps many Austrians in the country's lower regions will celebrate New Year's Eve on 31 December without snow; but in the alps, it will snow and water will freeze.
fig. from left: 'Top Gum' from the 'Juicy Shaker' lip stick line by Lancôme (Spring collection 2017); sports top of the Bogner Fire + Ice x Ray Demski collection; 'We' by Moon Boot X MSGM; Swatch Chinese New Year 2017 watch 'Rocking Rooster'. Closer descriptions below.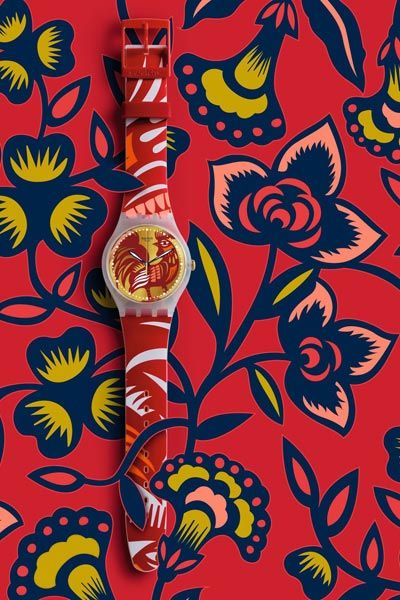 The image right shows the 2017 edition of the Chinese New Year series by Swatch. The 2017 watch with the name 'Rocking Rooster' is dedicated to next year's zodiac, the animal sign of a rooster. Swatch started with the annual editions twelve years ago and releases since then annually a limited edition. The colors red and gold of the watch matches the original Chinese depiction of the zodiac sign. The rooster illustration references Chinese art of paper cuttings. The watch is packed into a box with floral graphics in the style of traditional Chinese textile prints (print of the packaging on view at the image). Chinese New Year starts not always on the same day; in 2017, it begins on 28 January.
Above, first image from left: The new colors, scents like the 'Top Gum' (with bubble gum scent) of the 'Juicy Shaker' lip stick line by Lancôme will be available from February 2017. The pillow of the stick applies softly oils and pigments to the lips. 'Top Gum' belongs to the upcoming 'Absolutely Rôse!' Spring Collection 2017 which is inspired by the colors of roses, the fresh floral scents of spring, Paris and day dreaming.
Image above in the middle : The first layer 'Sera' long-sleeve top by Bogner Fire + Ice with prints of photos by nature photographer Ray Demski is already available. Fashionoffice published recently an article about the collaborative collection which shows mountains on sportswear for mountain activities. (Photo: Bogner Fire + Ice)
Picture above, right: The white 'We' moon boot with rose patch is from the currently available collaborative collection Moon Boot x MSGM. The Italian label MSGM (founded by Massimo Giorgetti) designed 11 models in 3 different forms.