5 February 2017

Fashionoffice spring 2017 rain style tip for nature lovers
After snow, the spring season with rain and mud challenges outfit combinations which protect and pay tribute to the wonders of nature. It's the time, when nature awakens and earth gets nutritioned with water to make seeds grow. The magical time of 'new beginnings' is expressed perfectly with this year's Pantone color 'Greenery'.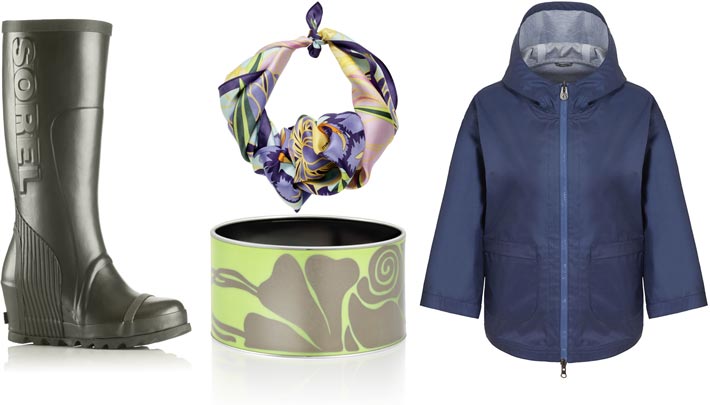 Austrian jewelry brand Freywille included the optimistic signal tone into designs of items such as the bordered bangle 'Diva' with 'Revival: Art Nouveau Vienna' pattern of floral motifs, leaves on 'Greenery'. Scarves are a good choice for windy spring days; with a pattern like the silk scarf of the 'Hommage à Claude Monet' line, the nature appeal can be worn with art touch; Claude Monet became famous for his views on the garden, water and flowers. (Freywille introduces into 'Hommage à Claude Monet' with a making of video.) Both pieces, the bangle as well as the scarf are from the new Spring/Summer 2017 collection by Freywille.
The olive-green boots 'Joan Rain' with wedge and breathable mesh lining are from the Spring/Summer 2017 collection by Sorel. It's the first waterproof spring/summer range by the winter footwear specialist Sorel. Photo: Sorel.
The Colmar Originals blue rain jacket with hood is made from laminated and waterproof material with heat-welded seams. For Spring/Summer 2017, Colmar was inspired by the exploration of planets and their landscapes. (Article about the collection.)


more collections>