4 March 2017

Fashionoffice SS2017 tip: Mother & Child street style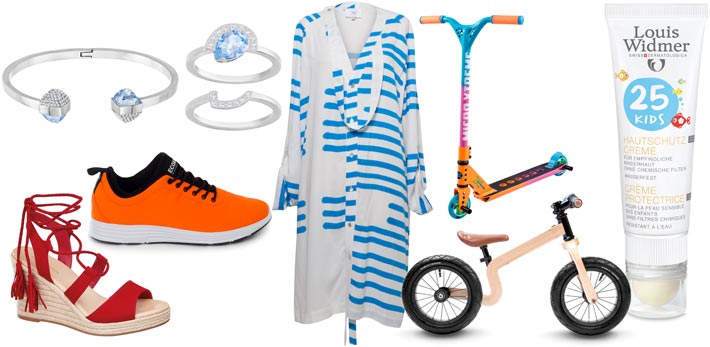 For walking with children through the city, Bike Vienna and Scooter Vienna (both located at Hegelgasse 19 in the Inner City of Vienna) sent tips for motivating kids to start with sports activities when they are already too old for sitting in the buggy or when they are in the age to refine their talents. For younger children - around 1,5 years to 3,5 years, the 'Early Rider BONSAI 12"' bike with wooden frame is designed to improve body balance, motoric skills and the coordination of movements. For larger kids, vehicles such as the 'Micro Scooter MX TRIXX Metal Core' (on view on this page in 'Rainbow Aqua') are recommended for learning the first tricks and stunts.
The faster the kids, the flatter the shoes! For the Mother & Child street style, Fashionoffice selected two models from new collections. The red sling wedges are from the collaboration between musician Ellie Goulding and Deichmann (available since 1st March).
The orange 'California' sneakers by Ecoalf are made from recycled plastic. The founder of the brand Javier Goyeneche named the company after his son's name Alfredo and combined it with his vision of producing ecological fashion: Ecoalf.
With the warmer days, sun protection is again a theme. The sun protection cream with lipstick by Louis Widmer is especially developed for children's, even babies' skin. The tube is designed for on the way. (Note: An interesting article about researches on sunburns and skin types - lighter or darker skin types are both endangered, was recently published on Tonic.)
The 'Gallery' ring set and 'Glance' cuff are from the new 'Be Brilliant' Spring/Summer 2017 jewelry collection by Swarovski. (Photos: © Swarovski)
The white shirt dress with light blue stripes (photo: © Mario Kiesenhofer) from the 'Attitude' Spring/Summer 2017 collection by Vienna-based fashion label Sightline is comfortably wide. Sightline designer and Sight Store owner Vivien Sakura Brandl - born in Rio de Janeiro as daughter of a Japanese mother and an Austrian father, is influenced by Japanese clothing tradition (kimonos) and elaborates her designs and fabric patterns from sketches, brush strokes in an experimental 'on the way' dialogue with expectations.

more collections>