21 February 2017

Fashionoffice Spring/Summer 2017 tip: Athleisure style
Body consciousness in fashion isn't new. It's one of the motivating forces why clothing, shoes or accessories are designed. Body consciousness doesn't mean that attracting another person is the only function of fashion. Today, it's common that women are wearing what matches their own taste best; even when it comes to the criterion 'comfortable'. Perhaps it's important to think the role of women and how it has changed in the last century. The 1980s for example had been a milestone for comfortable daywear! Designers like Azzedine Alaļa created with stretch fabrics street couture with a touch 'just from the gym'. The leggings and body suits matched perfectly the trained bodies of women of the 1980s; trained like never seen before in the history of women's fashion.
Nowadays trend 'athleisure' (athletic x leisure wear) seems under these three aspects - attraction, comfort, trained female bodies - only a continuation of a long-lasting wave which is caused by a healthier, sports inspired lifestyle and urban trends like cycling to work, fast walking and running in city environments, or practicing fitness as daily routine. Maybe athleisure will be reviewed in thirty years not only as continuation of the visual, vestimentary expression of the society's healthier lifestyle but will mark another milestone in fashion history as it's driven more than every other period by the development of new materials, production technologies and processes for textiles, apparel or shoes. Perhaps we become currently witness of a growing 'scientification' of the fashion industry concerning chemical innovations (recycling, reconstruction of organic fibres,...), physical implementation of digital devices (keyword: AI - Artificial Intelligence), and socially responsible production processes. Science is often invisible and won't change one of the most important needs of consumers: to find fashion which simply looks good!
Fashionoffice collected some Spring/Summer 2017 fashion and beauty pieces under the motto 'Athleisure style':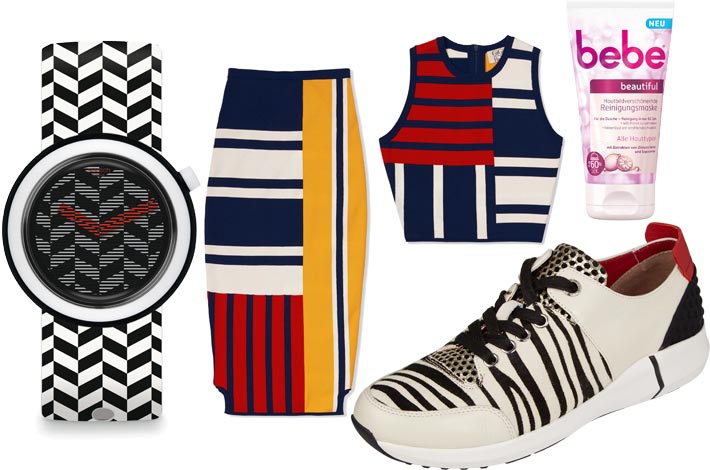 Top and skirt from the collaborative collection by Tommy Hilfiger and Gigi Hadid; seen at peek-cloppenburg.at. The patchwork pattern of the two pieces may remind some of a new interpretation of Mondrian's paintings which inspired the design of fabrics for 1960s couture for active women's lifestyle. Yves Saint Laurent's Mondrian collection items are on view nowadays as fashion-art at museums.
Leather sneakers in urban nomad style with zebra pattern on fur by Marc Cain Bags & Shoes; seen at peek-cloppenburg.at.
The 'Hypnopop' watch by Swatch is from the upcoming 'Mosaici & More' collection which is designed after the idea to turn the wrist into a gallery for geometric art. (Available from 23 February on www.shop.swatch.at; from 9 March, at Swatch stores and selected retailers.)

Cleansing mask from the new 'bebe beautiful' line by bebe (available from April). It's announced that the line will be promoted with a campaign that encourages girls and women to free themselves from the rigid beauty dictation of society and to trust their own natural beauty. It's advised to use the mask under the shower: with the help of steam, the mask refines the pores and purifies the skin in 60 seconds. The price of the mask is nice: 150 ml for around 5,79.- Euros.


more collections>