17 December 2017

Tip early 2018: Sporty look and healthy lifestyle
...are probably on many to-do-lists in the early days of the new year. The fashion for sports in everyday life like walking or cycling in urban environments meets the desire for healthy activities. Additionally, using the feet or the bicycle reduces pollution while the same time as the body is trained. Fashionoffice looked through current and upcoming products which correspond with the positive outlook into 2018.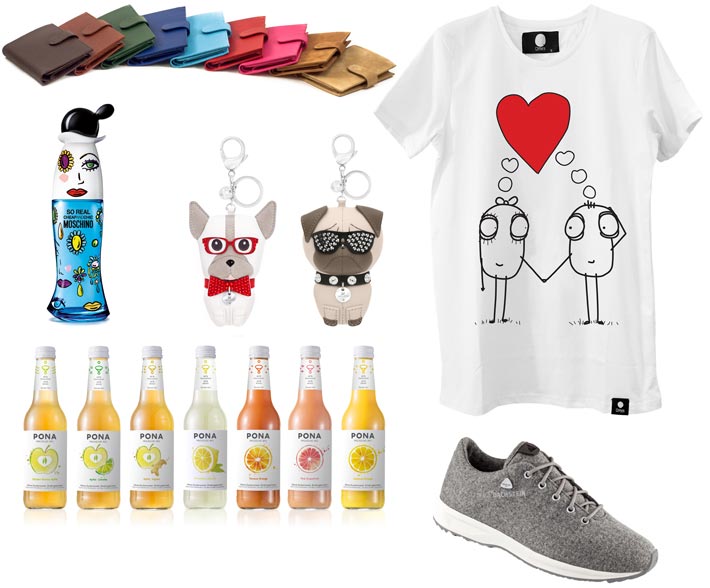 The colorful range of handmade wallets are designed and manufactured in Vienna by R. Horn which is inspired for the leather bags and accessories by the arts & crafts of Wiener Werkstätte and its design innovators and social-political forward thinkers Josef Hoffmann or Adolf Loos from the turn of the 19th/20th century. The style of R. Horn is classical without time-stamp. Buying durable high-quality articles that stay fashionable over decades is in our times of supersaturated markets not only a long-term strategy to save money; buying less but better products benefits the protection of the environment and is an act against climate change.
The latest eau de toilette 'So Real' from the 'Cheap & Chic' line by Moschino is a sunny warm scent. The signature 'Cheap & Chic' flacon pays homage to flapper Olive Oyl - a comic strip figure which appeared first in 1919 and was accompanied then years later by her friend Popeye the Sailor. For 'So Real', Moschino Art Director Jeremy Scott - known for critical views on society and environmental issues, added a surrealistic face to the bottle and a transparent ocean-blue dress with jewelry pieces. The treasure-seeker-sculpture-flacon for the long-lasting scent is a classical applied arts object for at home.
The two stylish Swarovski dogs - Bruno (he) with red eyewear and Roxie (she) with studded sunglasses, are both embellished with crystals. The bag charms or key rings pay homage to the Chinese New Year of the Dog 2018 and stand for loyalty, friendliness and reliability. (Photos: © Swarovski)
The t-shirt from the Love Edition of the Austrian brand Quipster with illustration by artist and co-founder Andreas Körner was presented recently as Valentine's Day 2018 preview. (Photo: © Quipster)
The loden-sneaker 'Dach-Steiner' (available for men and women in various colors) by Dachstein is from the Austrian brand's upcoming Spring/Summer 2018 Urban Outdoor collection. The 'Dach-Steiner' pays tribute to the mountain range Dachstein and Austrian arts & crafts. The upper material is original loden (felted wool) by Schladming-based textile producer Steiner 1888 (1888 references the year the company was founded). Loden is a durable material which is known for natural climate comfort. The sneakers are equipped with mesh lining and the very light grip-sole 'Dachstein UrbanFlex'.
The Austrian juice (60%) / sparkling natural spring water (40&) beverage label 'Pona' (founded 2014) derives its name from Pomona, the ancient Roman goddess of fruit. At the website's 'bio-graphy', the makers introduce into the sources of their products such as the origin of the water which comes from the Millstätter Alpe in Carinthia, Austria. The image shows the current product line such as Tarocco Orange made from fruits from Mount Etna in Sicily or Apple-Ginger made of South Tyrolean apples. The products are available at health food and beauty stores, gourmet supermarkets, chic restaurants, hotels or at several online shops.


Annotation: Fashionoffice hasn't tasted one of the Pona beverages or walked in the loden-sneaker Dach-Steiner. The only product on this page which was tested by Fashionoffice is 'So Real' from the 'Cheap & Chic' line. The eau de toilette was sent by Moschino for testing to Fashionoffice. This article like the editorial work of Fashionoffice as a whole - inclusively research activities, isn't sponsored or paid in any way by labels or by media, culture founding institutions of the Austrian government. Ads are changing with the interests of users, countries, etc and run exclusively over third-party tags in advertising slots beside editorial articles.


more collections>