30 January 2017

Gina Drewes 'Wanderlust' collection photographed on trains and at railway stations by Jürgen Hammerschmid
The new Spring/Summer 2017 collection 'Wanderlust' by Austrian designer Gina Drewes is already available in stores and online at several shops such as at lieblingsbrand.at which is one of the country's largest shops for fashion, accessories and jewelry by Austrian designers, at the Berlin-based shop nelou.com which offers an international range by designers from all over the world, or at Gina Drewes' own shop on monkeyonmyshoulder.com.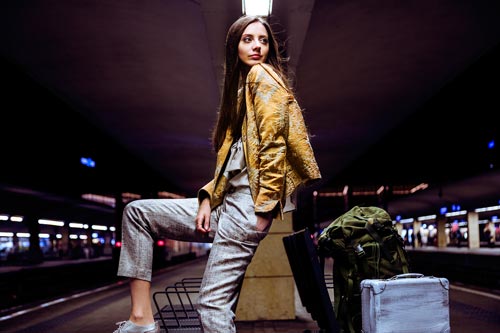 For the campaign of the 'Wanderlust' collection, Gina Drewes collaborated with Vienna-based photographer Jürgen Hammerschmid who used authentic 'wanderlust' sceneries at railway stations and on trains for the visualization of Gina Drewes' inspiration: the wide world outside of cities and the exploration of the urban envrionment. The designer's jackets such as the 'Infinity' jacket, shift dresses or coats like the ones named after the Asiatic ritual symbol 'Mandala' are contributed to a travel through the cultures of the world. The items have a festive touch which fits for spring/summer events like weddings or opera, theater. For the everday styling, Gina Drewes recommends to mix the items with casual pieces such as the 'Mandala' coat with jeans and t-shirt.
fig.: On view at the image is the 'Mandala' jacket from the 'Wanderlust' Spring/Summer 2017 collection by Gina Drewes. Photographed by Jürgen Hammerschmid at a railway station. Photo: (C) Jürgen Hammerschmid.
The embedded post below shows the 'Nirvana' coat photographed at the Viennese underground train U-Bahn.