3 April 2017

Lena Hoschek SS2017 trachten collection is inspired and named after Austrian regions and traditions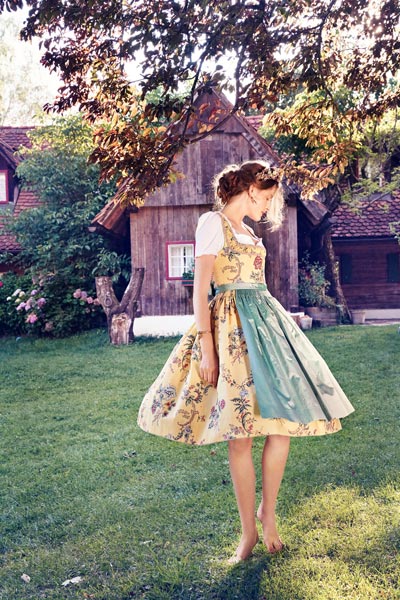 ...such as the ribbon skirt 'Maifest' (on view at the image below). 'Maifest' is celebrated in various regions differently. May festivities originate from celebrations dedicated to the fertility of nature; in some regions, the Maypole (trunk of a tree) is erected as symbol for fertility and used as climbing tree by men or as tree where people dance around. The night from 30 April to 1 May is celebrated by some as 'Walpurgis Night' (aka 'Witches Night'), named after Saint Walpurga. This night was once famously included by German author Johann Wolfgang von Goethe into his 'Faust' play (published 1808). Walpurgis Night is originally associated with women dancing around bonfire against evil. Several cultural activities by women are still organized in Austria under the name Walpurgis Night. Another May tradition is located especially at the country's capital city Vienna where 1st May is celebrated as Labour Day since 1890. The outfit consisting of the ribbon skirt 'Maifest' with 'Aloisia' vest (image below) is a merge of urban and country style; it fits well for nature dedicated festivities as well as for urban celebrations of social revolutions.

Alongside to references to Austrian traditions, Lena Hoschek presents dirndl-blouses (dress-blouses) named after Austrian regions which are known for their charming landscapes and/or their soil-grown products like the Styrian municipal 'Kitzeck' which is known for its wine culture.
fig. above: 'Palma' dirndl (dress with apron) and 'Kitzeck' dirndl-blouse. Below: Ribbon skirt 'Maifest' and 'Aloisia' vest in Maiwipferl green; Spring/Summer 2017 collection of the 'Tradition' line by Lena Hoschek. The shooting of the campaign images happened in Styria; headwear was contributed by Miss Lilly's Hats; hair extensions by Hairdreams. Photos by Agnes Stadlmann.