19 March 2017

New Era 'Border Edge' men's wear pays homage to the culture of sport stadiums, famous teams, 90s streetwear



Jeans blue, red, asphalt grey, black are the main colors of the New Era 'Border Edge' streetwear collection consisting of the brand's signature sports caps and men's apparel like jackets, hoodies, pants, or t-shirts. New Era pays homage to famous sports teams like the baseball team New York Yankees or the American football team Oakland Raiders as well as to the 1990ies when stadium outfits inspired designers for adding an elegant sports touch to leisure wear.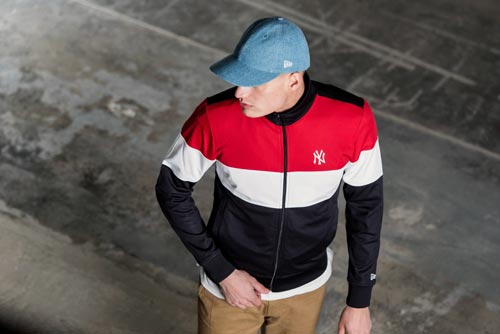 fig. right: The red, white, navy blue striped jacket pays tribute to the New York Yankees and belongs to the New Era 'Border Edge' collection of vintage items like the team's official sweatshirt (with the same stripes and colors). On the head, the 9FIFTY cap in washed denim.
fig. above, from left: Bomber jacket in muted red and New York Yankees cap in denim. Hoody and cap in black and grey from the Raiders line.

Blue (NY Yankees) or black, grey (Raiders) reference the official team colors.
Photos: (C) Jay Mawson.