31 March 2018

Children's tip & girl fashion Spring/Summer 2018:
Reading & sharing books and flora & fauna patterns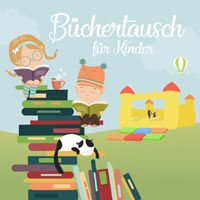 On 2 April on occasion of the International Children's Book Day, the family gastronomy destination 'Kolariks Luftburg' at the Prater in Vienna invites kids to share their read books against new stories. (The image right shows the name giving 'Luftburg', 'air castle'). It's announced that the children's book exchange offers reading corners for kids while the parents can relax at coffee and cakes. The entry to the book exchange is free; open from 13.00 to 17.00.
Especially sketches at picture books for the youngest will influence the readers' future perceptions. Butterflies, flowers - nature's fauna and flora are beloved motifs in stories for opening kids' minds for the world we're living in.


Motifs just like from a picture book can also be found on fashion items such as at the current Spring 2018 kids collection by H&M. The brand collaborated for the line with the print designers Jonas Claesson and Michelle Morin who depict earth's nature. Jonas Claesson sketched impressions of the ocean; and Michelle Morin's illustrations (on view at the images below) look like from a picture book about a fantastic colorful flower and fruit carrying tree garden inhabited by zebras, exotic birds, and butterflies. On view, a cap (9,99 Euros), a dress (24,99) and shoes (14,99) with patterns by print designer Michelle Morin.
The watch 'Papilletta' is from the 'C'est Chic' collection Spring/Summer 2018 by Flik Flak, the brand for children's timepieces by Swatch. The watchmaker created the butterfly pattern on the textile strap as inspiration to develop an interest into animals.

The frog packed disinfecting gel is from the 'Schmutzfinkgel' (means as much as 'dirtbird gel') range by Austrian apothecary brand Mama Aua!. The label was founded by pharmacist Mag. Nina Raidl who developed a series of family products with focus on kids. Mama Aua! is exclusively available at Austrian pharmacies. Nina Raidl's tip: The gel is ideal for cleaning door handles from disease-causing agents or for cleaning the public toilette before the kid is using it. The gel disinfects hands as well as smooth surfaces from 99,9 % of the bacteria; it cleans without water. (Photo of the frog: © Jansenberger Fotografie - www.digitalimage.at.)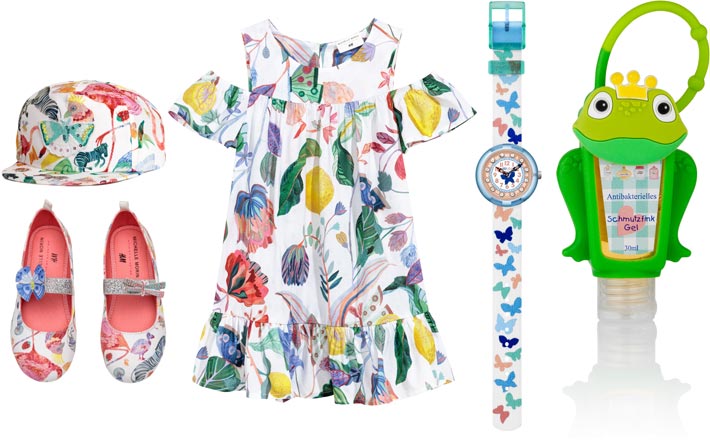 more collections>