13 February 2018

H&M Conscious Exclusive collection made of regenerated fibres from fishnets,... is inspired by home of 19th/20th century design & artist couple Karin & Carl Larsson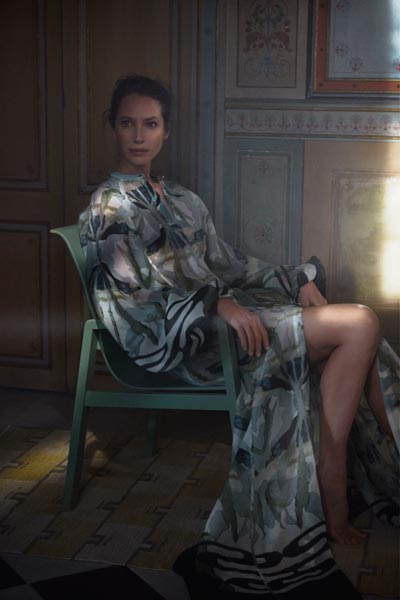 With campaign images captured by fashion photographer Mikael Jansson, H&M presented the new 'Conscious Exclusive' collection (available from 19 April) made of sustainable materials like recycled silver for jewelry, recycled polyester for shoes, Econyl (100% regenerated fibre from fishnets and other nylon waste) used exemplary for an embroidered wedding gown, or Tencel (lyocell - cellulose fibre) for clothing such as the dress on view at the image on this page, worn by Christy Turlington Burns, model and founder of the health organization 'Every Mother Counts'. The Tencel dress shows a watercolor painting-like floral print in the colors green, blue and earthy brown.
For the collection, H&M's Conscious Exclusive Design Team was inspired by the home of the 19th/20th century Swedish design/art couple Karin Larsson (main focus interior design, textiles) and Carl Larsson (painter). The house with garden 'Lilla Hyttnäs' in Sundborn is today a tourist attraction. The artists' home and family life (the couple had eight children) are important parts of the work of Carl who depicted very detailed the interior designed by his wife Karin. For the collection, the design team references arts & crafts of the turn of the 19/20th century and re-interpreted the style of the wallpapers and paintings of Karin & Carl Larsson's home into fashion patterns.
The prices for the eco-friendly pieces range from 299.- Euros (wedding gown made of Econyl, organic cotton), over 149.- (long dress made of Tencel, on view on this page), to 49,99.- (jewelry made of recycled silver).
fig.: Christy Turlington Burns in a long dress from the 'H&M Conscious Exclusive' collection consisting of elegant day and evening wear, shoes, jewelry, available from 19 April 2018 at selected stores worldwide and online. Photographed by Mikael Jansson; (C) DALiM.


more collections>