25 January 2018

Olympic swimmer and ecologist Coralie Balmy inspired the new 'adidas x Parley' swimwear made of recycled fishnets and raises awareness for the protection of the oceans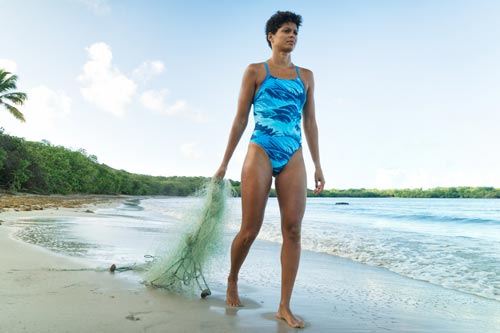 On adidas.com/swimming, the new 'adidas x Parley' collection of men's and women's swimwear is presented together with French Olympic swimmer and ecologist Coralie Balmy (born in Martinique, French island in the Caribbean Sea) who inspired the designs of the performance items which show a powerful marine-sky blue colored waves pattern. The former 200 m freestyle (short course) World Record holder Coralie Balmy and adidas use the swimwear presentation as education platform to make young generations aware of the problem of plastic in the oceans and showing solutions like the production of yarns made of waste after the motto of adidas and the ocean protection initiative Parley 'From Threats to Threads'. For the 'adidas x Parley' products such as sneakers or yoga wear, the sportswear brand uses materials made of plastic from the oceans like for the adidas x Parley swimwear which is made of chlorine-resistant Econyl yarn from recycled fishnets.
fig.: Olympic swimmer, ecologist and Parley ambassador Coralie Balmy walking at the beach. She wears the performance swimsuit of the 'adidas x Parley' Spring/Summer 2018 collection; in one hand she is holding waste from the ocean, a fishing net.
The video on this page shows the latest Chapter 2 published on adidas.com/swimming. Chapter 3 of the series is announced but not published yet (fast checked today).