29 March 2018

Style tip Spring 2018: Black & White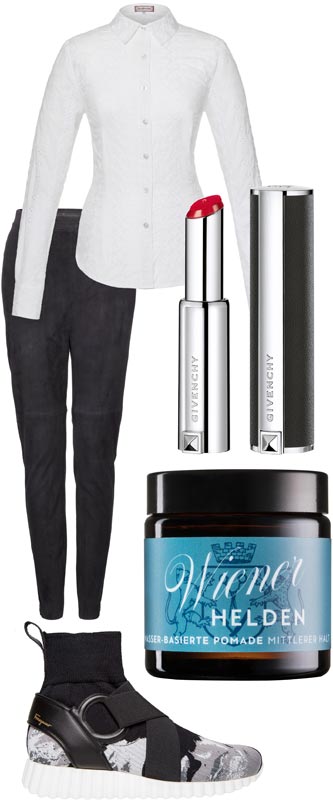 Black & white is a classical non-color choice! By combining it with couture sneakers, the clean and elegant black & white outfit gets sporty.
The Viennese luxury store Popp & Kretschmer for example recommends the sporty Salvatore Ferragamo sneakers with camouflage pattern (picture below) for city explorations or meeting-marathons. (Photo: (c) popp-kretschmer.at "via www.popp-kretschmer.at").
Fashion.at combined the sneakers with black leather pants from the Spring/Summer 2018 collection by Joseph Janard (seen at peek-cloppenburg.at) and the white blouse 'Esterhazy' from the Spring/Summer 2018 'Kiss Me Piroschka collection by Lena Hoschek. The blouse is made of traditional Austrian tracht-clothing lace showing small flowers. The collection 'Kiss Me Piroschka' and the blouse's name (Esterhazy is a prominent aristocratic Hungarian noble family) reference Austrian-Hungarian culture. (Photo blouse: © Philipp Jelenska)
Red lipstick 'Le Rouge Liquide' by Givenchy (available in Austria from April exclusively at Marionnaud stores and marionnaud.at). The new formula (combines classical lipstick coloring qualities with long-lasting caring features of a fluid and balm) is packed into a silver metallic, black leather capsule (on view at the image). For the liquid mixture of the lip rouge, the packaging designers applied a foam applicator which contains pigments and the caring texture mixed from ingredients like moisturizing hyaluronic acid, oil and wax. It works similar to a ballpoint pen! Le Rouge Liquide will be available in 12 different colors.
The water-based pomade with lemony-bitter scent is from the men's hair and grooming range of the Viennese label 'Wiener Helden' (means translated 'Viennese Heroes'). The pomade is practical (also for women) to keep short or long hair under control. The label was founded 2016. Recently, it was included into the assortment of the trend setting luxury beauty boutique 'Kussmund' in Vienna. (Photo: via www.kussmund.wien).


more collections>