5 March 2017

Vienna eating and drinking event series 'Markterei' teams up with fashion and design labels
Annotation (on 4 April): On 7 and 8 April, Markterei teams up with design (fashion, jewelry, interior,...) and cosmetics labels: Markterei plus Design!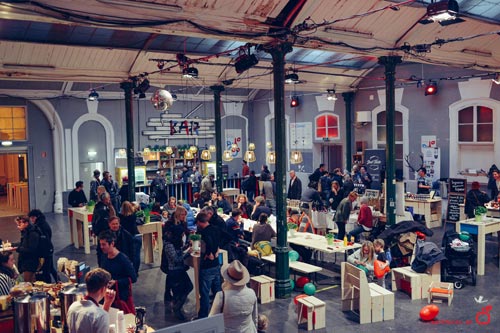 The weekly market (Friday, Saturday) 'Markterei' at Alte Post (Dominikanerbastei 11) in Vienna runs since November 2016 and has scheduled events until June this year. On 10 and 11 March, design and fashion labels will join the Markterei for presenting their products. The entry to the event is free. The design labels count like the gastronomy and food producers to the more stylish and very typical Viennese brands such as Schlumberger (sparkling wine), Trzesniewski (sandwiches) or Gugumuck (escargots). Announced (Facebook event) on the two days 10 and 11 March is eyewear from the archives of Robert La Roche or typical Viennese coffee house furniture by Thonet.
fig.: View at the Markterei gastronomy hall at Alte Post in Vienna. Photo: © Alexander Gotter.
Die Markterei Markthalle in der Alten Post from Markterei Markthalle on Vimeo.