ALLEN JONES - Catwalk II

Opening: 2 Oct 2008, 3 Oct - 4 Nov 2008
Galerie Ernst Hilger www.hilger.at

Fetish motifs high-heels, latex clothing and slender female legs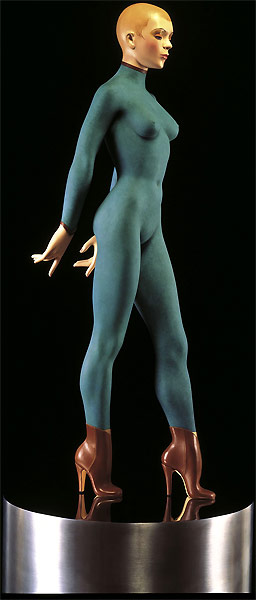 On 2 October 2008 the exhibition Catwalk II with works by pop-artist Allen Jones opens at the Galerie Hilger in Vienna.

Along with David Hockney, Ronald B. Kitaj, Richard Hamilton ... Jones founded British pop art; a movement which like its American counterpart allowed the everyday world to take its place in art.
British and in London living artist Allen Jones (born 1937) became internationally renown because of his controversial sculptures in the 60s. He inspired other creatives such as the designers at the cult-movie "A Clockwork Orange" for the furniture of the Milkbar.
Video: Scene at the Korova Milkbar from the movie "A Clockwork Orange" (1971); directed by Stanley Kubrick, based on the novel by Anthony Burgess; starring Malcolm McDowell; music Beethoven's 5th. The sculptures are inspired by the work of Allen Jones.



fig.: Allen Jones Enchanteresse, 2006, Bronze, 115 cm, Ed 8


Allen Jones began in the middle of the 60s to use fetish motifs such as high-heels, latex clothing and slender female legs. The resources for his painting, sculpture and graphic works are sex and eroticism.
"Jones defined the female body and his sexually loaded fragments and fetishes as the crowning glory of pop art, interpreted in a descriptively realist manner of formulation: Jones eschews schematic flatness of the seductive figures as in Lichtenstein or Wesselmann, but emphasises a physical, indeed in part haptic presence. He produced paintings in combination with latex garments and dolls dressed in gloss and leather, which functioned as furniture." Galerie Hilger