Alfredo Barsuglia
The Importance of Being Beautiful
21 September - 2 November 2008
Gironcoli Museum, St. Johann bei Herberstein, Austria
www.gironcoli-museum.com


Makes beauty healthy?
The exhibition "The Importance of Being Beautiful" at the Gironcoli Museum (Austria) presents works (paintings, installations) by Alfredo Barsuglia, born 1980 in Graz/Austria, who questions stereotypes of beauty, basic needs, glamour, star cult, daily rituals such as teethbrushing; because who has beautiful teethes must be a healthy and vital human?
Beauty :: Health

Alfredo Barsuglia opens a discussion about aesthetic medicine and our view on beauty which begins in Barsuglia's work as well as in real often on the dentist's chair. It is an easy way to bring beauty into your face; sometimes by damaging healthy teethes.

Barsuglia is influenced by the naturalism of the Renaissance, especially the portraits by the German artist Hans Holbein The Younger (ca. 1497-1543). Holbein had two big themes: his main job was capturing members at the court of Henry VIII (England) in beautiful dresses and representative posing for portraits. His second big theme was the death such as you can see in his woodcut series "Dance of Death".

Video: you can see a secret in Hans Holbein's (The Younger) painting "The Ambassadors", 1533, National Gallery, London. Check it out! It's a s....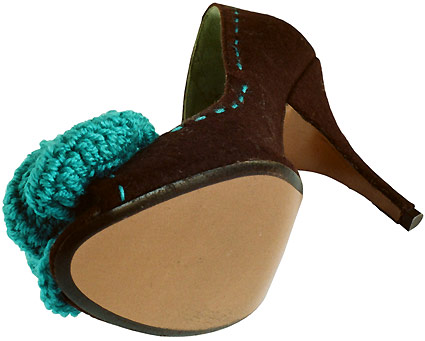 fig.: Alfredo Barsuglia, The Importance of Being Beautiful, Installation - Schuh Francesca Habsburg, Diskokugel, 2007-08. Copyright: VBK Wien
This is the shoe from one of the presented installations. At first you will see an empty room in an after-party scenery where the guests have left; on the ceiling a disco ball. With a lost shoe in the middle of the room the story about a woman begins ... What's her name? Why has she lost her shoe? What happened?
Barsuglia references Brothers Grimm's fairy tale "Aschenputtel", even known as "Cinderella" . In it, a prince is searching after his bride with the help of a lost shoe. The search of the prince provokes one of the most prominent fairytale star cults which results in establishing an ideal of beauty: the lady who had lost her shoe becomes a star because of her mysterious leaving; every woman in the kingdom wanted to fit into her shoe because if so, the prince would marry the one. But some had too small, others too large feet. Last mentioned cut parts of their feet to fit into the beautiful shoe and gain the prince ... You can imagine that in this sequence the early 19th century fairy tale becomes a bloody story.


more culture>>>


Alfredo Barsuglia studied between 1999 and 2003 Painting and Graphical Art at the Vienna University of Applied Arts, at the Academy of Fine Arts Vienna, and at the Krakauer Akademia Sztuk Pieknych.
fig.: Alfredo Barsuglia, Mädchen mit Mundschutz 1, 2006, Leihgabe der Neuen Galerie Graz am Landesmuseum Joanneum. Copyright: VBK Wien