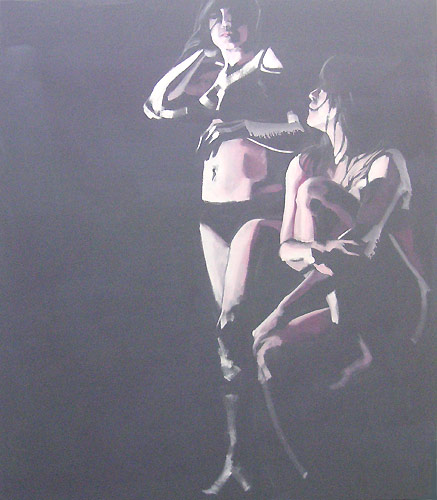 Bianca Regl "Rausch"
11 April – 21 Mai 2008
Lukas Feichtner Gallery, Vienna, Austria
Austrian painter Bianca Regl, born 1980 in Linz, returns after staying in Los Angeles and Berlin to Vienna and presents her recent works in the exhibition entitled "Rausch" at one of Austria's' leading galleries Lukas Feichtner (established 1995). The artist who captures the lifestyle of her generation in large oil paintings is a new discovery on the art scene.

In her Friday-series (fig. right) from 2005 Bianca Regl takes on the modulations of the female body. On the darkly primed ground material she uses a range of colours consisting only of shades of pink. By means of these tender colours she moulds the bodies of her girlfriends on canvas, through the contrast of light and dark. The movements of her brush seem vehement, gestural. Forcefulness as well as sensitivity are shown at the same time by the way that colour is applied.


fig. right: untitled (from the series "Freitag"), 2005. 200 x 160 cm, oil on canvas.
fig. left: Bianca Regl, portrait.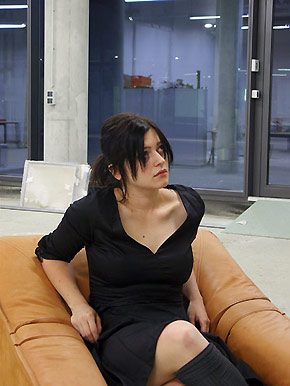 In the exhibition "Rausch" Bianca Regl devoted her recent works to a sensual frenzy and guides the spectator into a world full of impressions which unfold against monochrome backgrounds. The graphical seems to connect with the pictorial and reveals a familiar world without depicting it entirely. Reduced lines combined with generous brushstrokes offer the perfect mix in depicting the essence. Bianca Regl turns her attention to the surface: In this manner the slick skin of wet fish or the bulging texture of a mellow cherry become tangible in her paintings, while reflexions of light dip the bodies of her friends into a contemplative mood.
A book will accompany the exhibition. Check out Bianca Regl's works of the years 2004 - 2007 at www.feichtnergallery.com

From 2001 to 2006 Bianca Regl studied at several universities such as the
>Universite Paris Sud, Ateliers de Beaux Arts Paris (Mr. Maigret)
>Painting and Art Design, University of Art Design Linz, Class of Mr. Hübner
>Painting and Art Design, Academy of Fine Arts, Vienna, Class Schmalix
>University of California at Los Angeles, Graduate Painting (Roger Herman)
....