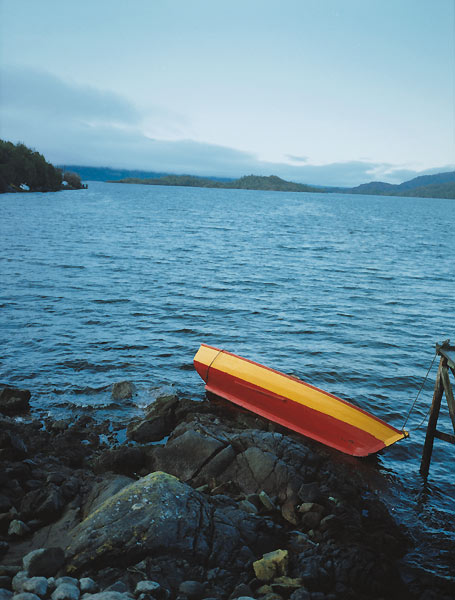 NATIVE LAND - Terre Natale
21 November 2008 – 8 March 2009

Fondation Cartier pour l'art contemporain, Paris
New videos created especially with Paul Virilio and Raymond Depardon for the exhibition. Paul Virilio speaks about borders, identity, and the replacement of the localisation of birth through what Virilio calls trajectory - the moving from one place to another under surveillance ... on fondation.cartier.com!

Homeland makes Identity?
Fondation Cartier pour l'art contemporain's exhibition "Native Land" combines the reflections of director/photographer Raymond Depardon with that of Paul Virilio, urban planner/philosopher, on the individual's attachment to the land and on human migrations and the paths they create.
Native Land is about homeland and the related questions of identity. It is divided into two paradoxical yet complementary parts that reflect two states: rootedness and uprooting. The first part is composed of films made especially for this project by photographer and filmmaker Raymond Depardon, while the second is placed under the direction of philosopher and urbanist Paul Virilio.
Raymond Depardon's photographs taken in Asia, Europe, Africa to North and South America are showing people who are immobile. Probably his view becomes so intense because he himself was constantly on the move. Depardon's work is about identity of people who are attached to their land and language.

fig.: Photo © Raymond Depardon

Video: Trailer "La Vie Moderne" - "Modern Life", Depardon's last chapter of his trilogy on the peasant world, will be released in France on 29 October 2008.

Raymond Depardon (born in 1942 in Villefranche-sur-Saône) renewed the photography and film reporting genres in his work as a filmmaker, photographer and special correspondent. Co-founder of the Gamma agency in 1967, he joined Magnum Photos in 1978. Raymond Depardon's filmed work, be it documentary or fictional, prolongs the resolve to confront reality already sensed in his photography.
Paul Virilio has much influence on the work of designers, artists because of his philosophical view on aesthetics. Movement is a central theme in his work; even in his texts about aesthetic.

In the accompanying catalogue you will find Paul Virilio's reflection on human paths and movements in today's world which he developed in a previously unpublished text, entitled Stop Eject, backed by a selection of significant images that form a veritable visual stream.
Paul Virilio exhibits in "Native Land" exoduses and trajectories by using films, photographs, and maps. He questions and comments on the disappearance of the notion of rural and urban sedentariness in a 21st-century world where geopolitics and the concept of geographical space is being replaced by what Virilio calls "aero-politics."
This contribution will be updated until the dismounting of the exhibition, echoing the movement it presents.
Video: Paul Virilio in an interview, by cargoweb.org, Oct. 2007
Paul Virilio (born 1932 in Paris) is a professor at the École Spéciale d'Architecture in Paris, where he was director and president from 1968 to 1998. An urban planner and essayist specialized in strategic questions about new technologies, Paul Virilio has written a number of major works and participated in numerous publications in France and abroad. In 2003, he collaborated with the Fondation Cartier on the exhibition Unknown Quantity.
Exhibition Catalog Native Land Fondation Cartier pour l'art contemporain, Paris French version and English version, Hardback, 28 x 21.5 cm, 288 pages, 250 color and black and white illustrations Texts by Michel Agier, Bruce Albert, Marc Augé, François Gemenne, Peter Sloterdijk and Paul Virilio Photographs by Raymond Depardon Release date: November 2008
Calendar Check out details about the exhibition and the calendar with special events: Nomadic Nights Online calendar on fondation.cartier.com/soireesnomades.

more culture>>>