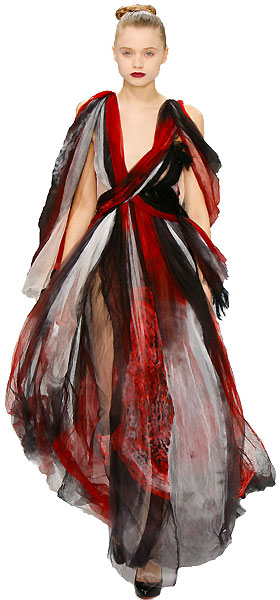 Gothic: Dark Glamour
5 September 2008 - 21 February 2009
The Museum at FIT, New York


The gothic influence on fashion and visual culture
"Gothic: Dark Glamour", the first exhibition organized by the renowned FIT (Fashion Institute of Technology) about the gothic style in fashion, is presented with 75 ensembles from designers like Alexander McQueen, Ann Demeulemeester, Boudicca, Karl Lagerfeld for Chanel Haute Couture, ... in gothic settings by British artist Simon Costin such as a ruined castle or a laboratory, where futuristic fashion 'monsters' are created.

"Although popularly identified with black-clad teenagers and rock musicians, the gothic has also been an important theme in contemporary fashion," said Dr. Valerie Steele, director of The Museum at FIT and curator of the exhibition. "The imagery of death and decay, the power of horror, and the erotic macabre are perversely attractive to many designers. For example, John Galliano told me that he saw the 'Gothic girl' as 'edgy and cool, vampy and mysterious,' while the most recent Rodarte collection was inspired by Japanese horror films."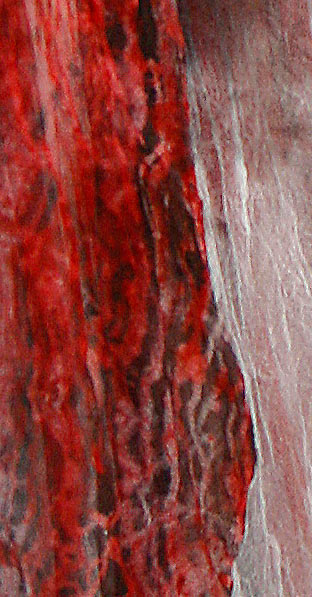 fig.: The Fall/Winter 2008/9 Rodarte collection was inspired by Japanese horror films, and the red dye was intended to evoke the look of blood in water. Photograph by Dan Lecca, courtesy Rodarte
The Dramaturgy of the Exhibition
Artist, jeweler, and set designer Simon Costin is known for his editorial and fashion show designs. For Gothic: Dark Glamour he has created as art director in closely cooperation with exhibition designer Charles B. Froom large scale landscape installations.

The first gallery invites you to a historical tour from the origins of gothic in the eighteenth-century gothic literature - represented by pieces like one of Eiko Ishioka's costumes for the vampire film Bram Stoker's Dracula - to its contemporary manifestations in art, fashion, and film.
The main gallery is designed as a labyrinth, divided into iconic spaces such as Night, with seductive black evening dresses; the Ruined Castle, which conveys a sense of the Dark Ages; and the Laboratory, where futuristic fashion "monsters" are created. Towering in the background is the Haunted Palace, which evokes Edgar Allan Poe's architectural metaphor for a disturbed mind.
High Fashion
Around 75 ensembles by designers like Alexander McQueen, Ann Demeulemeester, Boudicca, Comme des Garçons, Karl Lagerfeld for Chanel Haute Couture, John Galliano for Christian Dior, Jean Paul Gaultier, Hussein Chalayan, Francisco Costa for Calvin Klein, Christian Lacroix, Derek Lam, Gareth Pugh, Kei Kagami, Riccardo Tisci for Givenchy, Thierry Mugler, Rick Owens, Rodarte, Anna Sui, Olivier Theyskens, Jun Takahashi of Undercover, and Yohji Yamamoto are on display.

Subculture
Additional you will find a range of subcultural styles, such as "old-school goth" (associated with the heyday of the goth subculture, 1979-83), Victorian-style goth, industrial, steam punk, and cyber-goth, by designers such as Kambriel, Morphius and Plastik Wrap, as well as Japanese Elegant Gothic Lolitas by Tokyo-based brands Moi-Même-Moité and h.Naoto Blood.
The Book The exhibition is accompanied by the illustrated book "Gothic: Dark Glamour".
"There have been many studies of the gothic in art, architecture, literature, and cinema, but surprisingly little attention has been paid to the gothic influence on fashion," says fashion historian Dr. Steele, co-author of the book with Jennifer Park. Dr. Valerie Steele explores the significance of gothic fashion from its eighteenth-century origins in the work of the "original goth" Horace Walpole to its current manifestations in both street style and high fashion.
Program, Events Check out the wide range of public programs, including the Tim Burton film, Corpse Bride, on 18 December, the Fashion Symposium (Subculture and Style; experts will discuss the gothic influence on fashion and visual culture, as well as goth, punk, hip-hop, and other music-oriented youth styles) on 13-14 February 2009 www.fitnyc.edu/museum.


more culture>>>


More about Rock-Gothic, Vampire aesthetic
This fall the rock-gothic, Vampire aesthetic is back in cinema, music video, fashion. The stories are inspired or directly taken from computer-games ("Max Payne"), comic-books (movie "The Spirit"), great literature or retold authentic history (Rihanna's new music clip, Yohji Yamamoto Homme) ... http://www.fashionoffice.org/film/2008/maxpayne8-2008.htm
Influence of Gothic in current fashion and perfumery
"We have been researching the ghosts of the warrior queens, the imagery and identity of these amazing women and this is an early sketch idea of how the history of the past can be instilled into the modern day identity of some one today. ..." Zowie Broach, designer of Boudicca.
Boudicca, the label by Londoner design duo Zowie Broach and Brian Kirkby, presents for spring/summer 2009 a collection with very English, blue ink prints. At the same time (October 2008) Boudicca launched a new artful scent developed from the concept to merge the boundaries between science, graffiti, history and fashion; again with a blue print which disappears after some time while the scent rests ... http://www.fashionoffice.org/design/2008/boudicca11-2008.htm