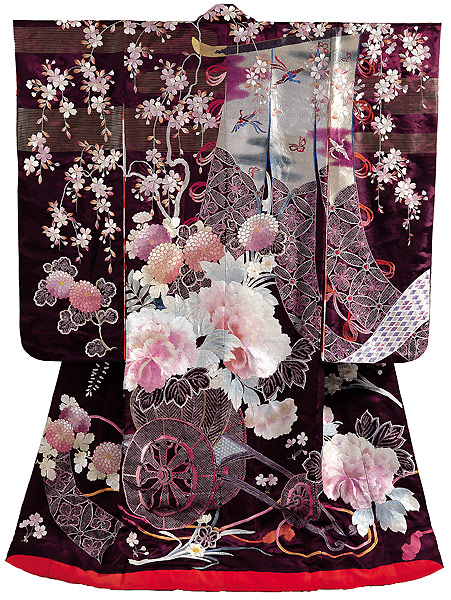 JUNKO KOSHINO
part of
150TH ANNIVERSARY OF FRANCO-JAPONESE RELATIONS

KIMONOS EXHIBITION IN THE GARDENS OF BAGATELLE

16 May - 16 July 2008
Trianon du Parc de Bagatelle, Honor Grid, Route de Sèvres Neuilly, 75016 Paris

The blowing of the wind in modern design
Junko Koshino takes part in the kimono exhibition on occasion of the 150th anniversary of the relations between France and Japan in the Gardens of Bagatelle in Paris. The Museum of Costume of Bunka Gakuen presents its collection of ancient and contemporary kimonos.

In 1979 the group Bunka Gakuen (founded in 1923) established the Museum of Costume of Bunka Gakuen. Today the group Bunka Gakuen consists of the Institute Fukuso Bunka Gakuin University and Bunka Women's University, fashion high school where Kenzo Takada, Yohji Yamamoto, Junko Koshino, ... graduated.
fig.: Ancient wedding kimono
The Japanese word Kimono means simply "the thing worn". Since the 19th century the Japanese culture fascinates the West. Traditional kimonos are embroidered with flowers, branches, highly symbolic trolleys, ... They are made with promises: goodluck symbols like the bamboo, symbols for wisdom, immortality and feminine energy like the phoenix, .... or a rickshaw - which means translated from Japanese "human-powered vehicle" - such as on the wedding kimono on this site.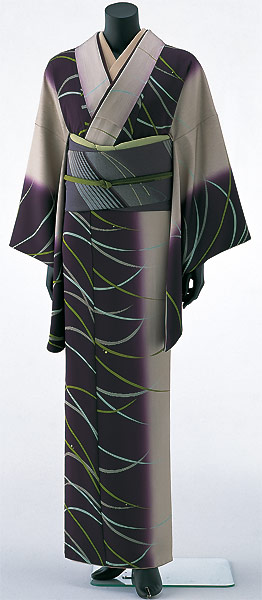 International Influences

In this exhibition you can experience the international influences of the Japanese culture on the West and vice versa. The presented collection consists of Kosode kimonos, kimonos of Nô, Samurai clothes, Court garments and popular clothing, accessories and ornaments.
fig.: Contemporary kimono made by Junko Koshino
Junko Koshino presents some of her finest works. Her kimonos transfer the spirit of tradition into our days. Her kimonos have an international clientele who acquire them as evening dresses.