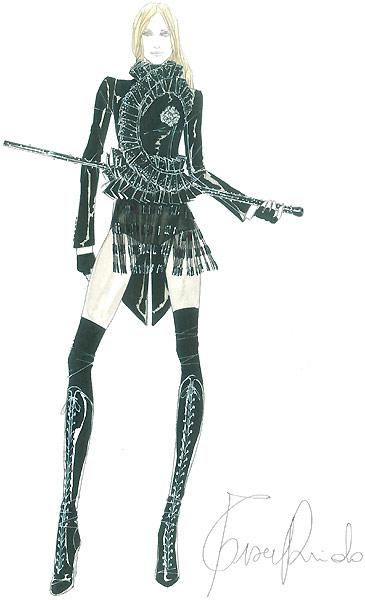 MADONNA
"Sticky and Sweet"
world tour
starting on 23 Aug 2008 in Cardiff, UK
Madonna will wear French Haute Couture by Givenchy on her "Sticky and Sweet" world tour which starts on 23 August 2008 in Cardiff (United Kingdom). Givenchy creative director Riccardo Tisci was inspired by Gangster Pimp, Art Deco, Gypsy style.
Gangster Pimp
This Gangster looks as if she was pimped in Scotland! The beads' checked pattern and the pleated organza are like a fashionable abstraction of the Scottish Highlanders' dress. The look is a homage to 1920's deco and modern day gangsta pimp.
fig.: The "Gangster Pimp" outfit is made of a frock coat in black stretch satin, trimmed with pleated black silk organza embroidered with jet beads.
The waistcoat in black stretch satin is trimmed with black silk fringes embroidered with jet beads and laced up corseted back.
Sketch: Givenchy Haute Couture by Riccardo Tisci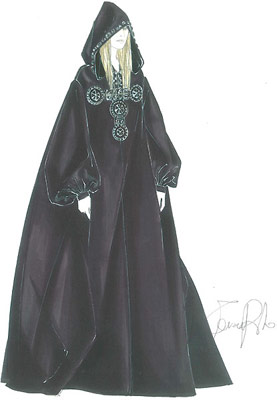 Rock-Gothic Style
Another outfit of Madonna will be the long hooded cape with an embroidered cross made of stones. This piece gets the edgy rock-gothic look from its medieval witch hunter style.
fig.: Long hooded cape in black silk taffeta, lined with fuchsia silk taffeta and embroidered with jet stones.
Sketch: Givenchy Haute Couture by Riccardo Tisci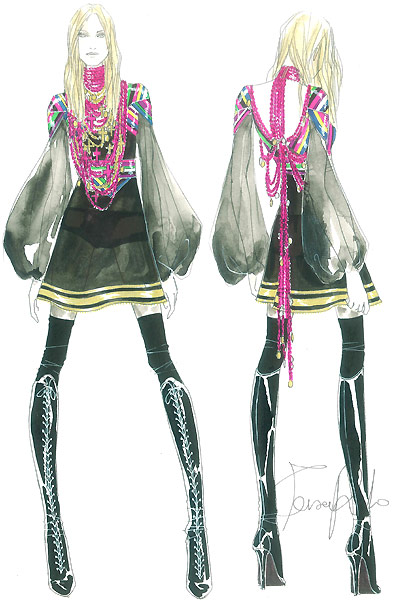 Inspired by Gypsies
fig.: The Gypsy inspired dress in black stretch chiffon is trimmed with multicoloured ribbons. The metal chains are colored in fuchsia.
Sketch: Givenchy Haute Couture by Riccardo Tisci
This colorful outfit with elements of the traditional Romanian costume will be worn by Madonna with a matching necklace.
The 'Sticky & Sweet' tour starts on 23 Aug 2008 at Cardiff's Millennium Stadium, comes to London's Wembley Stadium on 11 Sept 2008,...
Check out tour dates at www.madonna.com