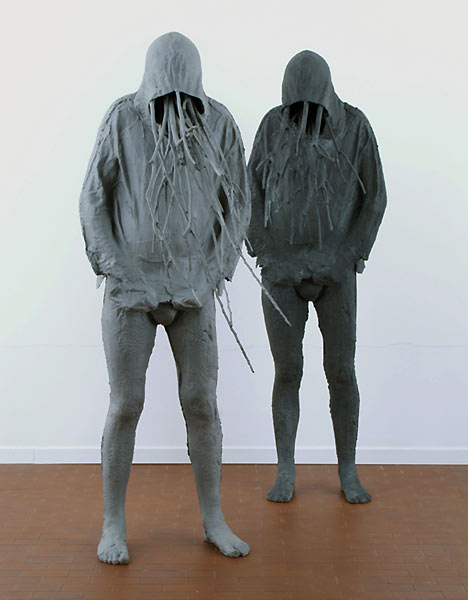 Paolo Grassino "Dolo d'impulso"
8 November 2008 – 7 January 2009
Mario Mauroner Contemporary Art Salzburg


Intellectual ways to live with violence, fear
From November 2008 until 7th January 2009 Italian artist Paolo Grassino, born 1967 in Turin where he still lives and works, presents his sculptures that center about the themes violence and fear which are coming from the human experience and questions the intellectual ways to live with them in an exhibition at the gallery Mario Mauroner Contemporary Art in Salzburg, Austria.
fig.: "Zero Zerouno" by Paolo Grassino, 2005. Aluminum founding.
The objects are looking frozen: made of industrial materials such as PVC foam, acrylics and aluminium they evoke a thrilling situation. The transformed vital subjects are part of a wild, archaic, mercilessly violent, bizarre theatre without showing any violent scene. How can you defy something that you expect but what is invisible?
"Grassino does not tell us his story, but he shares inescapable and not denial trueness with us, which is hidden in the unconsciously profundities of our psyche. Early, fundamental experiences like first fear, anxiety, distress, frustration and humiliation, constantly painful and sad encounters as well as the wild, strong and confusing hallucinations, which evoke unwanted images without any claim of entitlement to rightfulness or of a promise to a plausible explanation. They come from an impressive complexity of an inextricable net of human experience and the as well tricky as intellectual ways to life with them." Mario Mauroner & Team

Follow Paolo Grassino's journey through "Dolo d'Impulso" (free translated "Pain of the Impetus") www.galerie-mam.com.


more culture>>>