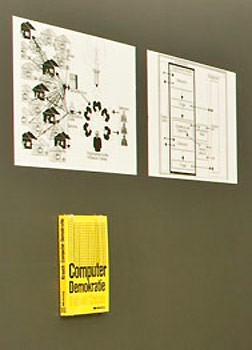 Social Diagrams. Planning reconsidered.
Curated by Jesko Fezer and Axel John Wieder
20 June - 23 August, 2008 Künstlerhaus Stuttgart
Check out accompanying lectures and discussions kuenstlerhaus.de
The curators Jesko Fezer and Axel John Wieder have collected artistic projects and historical material focusing in different ways on complex social systems for the international exhibition "Social Diagrams" at Künstlerhaus Stuttgart.
Social interaction became in the 50s a new aspect to analyse society
The exhibition provides an insight into the intense and varied inquiries since the 1950s into methodologies which have sought to describe developments of society through the use of increasingly complex models. Early discussions in this respect can be found in cybernetic research and feedback theories, while later research is particularly concerned with potentials of strategies involving direct user participation.
fig. left & right: parts of the installation "Orakel" from the early 70s which takes up the theme of the new mass media "computer networks" and active user participation in making public opinion. Read more about "Orakel" in the fig.-description below.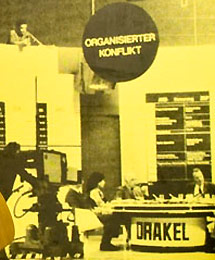 Social Theories in Art and Design
Such theories have recently been taken up by artists and designers in order to research the function of communication and control. Contributions and projects of current artists and architects shown in the exhibition underline the relevance of the approaches of the 1960s and 1970s in the present. On view will be works and projects by Marcius Galan, Ian Kiaer, Zoe Leonard, Karolin Meunier, Katerina Seda, Mirjam Thomann, Stephen Willats, An Architektur, Dexter Sinister with Steve Rushton and others.
The presented works and projects address amongst others the following questions:
How can processual social connections be conceived?
What is the impact of aesthetic and design practice on social relations and the way they work?
What relation do individual needs have to the design of shared space?
What is the function of the author within the design process?
fig.: Helmut Krauch / Studiengruppe für Systemforschung: Orakel (Study Group for Systems Research: Oracle) The most far reaching social experiment by the Heidelberg "Studiengruppe für Systemforschung" (Study Group for Systems Research) was the three-part series "Orakel" (Oracle) broadcast in 1971 by the Westdeutsche Rundfunk (West German Broadcast Service). In Helmut Krauch's project – a computer aided television grassroots democracy – a "phone-in," viewers panel and computer database enabled viewers to influence an "organized conflict" within a selected representative group. Krauch and the study group –Horst Rittel, Hans Paul Bardt and Jürgen Habermas were also involved – researched on research planning and decision making processes. During this time, the study group was already actively involved in political consulting for the German government and had, for example, developed a program for the reorganization of communication structures of the Chancellery.
- Short summary of the first Orakel episode by Aurel Goergen, video, 13:22 min.
- Archive copies of the second and third episode "Orakel on environmental conservation," video, 1971, 29:59 min & 66:45 min.
- Organization chart of Orakel's communication principle, Helmut Krauch, 1971
- Studio setting of the second episode "Orakel on television," photograph, 1971
- Computer Democracy, publication, 1973
Courtesy of Helmut Krauch, Karl-Heinz Simon