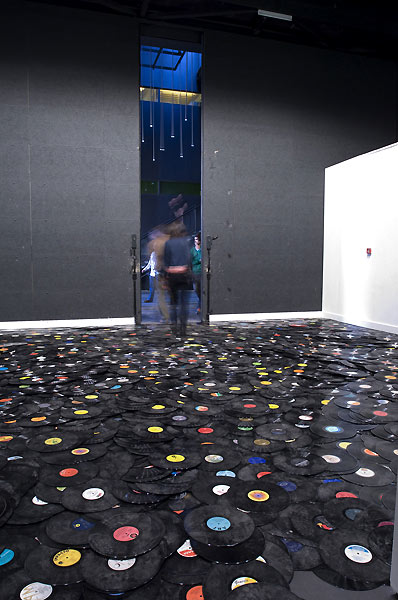 SONIC YOUTH etc. : SENSATIONAL FIX

11 Oct 2008 – 04 Jan 2009
Museion Bolzano
www.museion.it

30 May - 20 September 2009
Malmö Konsthall, Sweden www.konsthall.malmo.se

80s Punk combines Art and Music
The US band Sonic Youth (formed in 1981) collaborated closely with curator Roland Groenenboom for the exhibition of Sonic Youth's multimedia works and other artists with focus on the synergies between art and music in the show "The SONIC YOUTH etc. : SENSATIONAL FIX".
They have created an alternative history of contemporary culture that evokes a critical discussion of the division between "high" and "popular" art. Some of the band's songs have been used to topicalize aspects such as youth rebellion, hunger, fashion, and sex. The various sections revolve around a central area, which illustrates the band's long history, with records, posters, T-shirts, musical instruments and photographs.
fig.: Untitled, by Christian Marclay, 1987. Vinyl records. Dimensions variable. Courtesy of the artist & Paula Cooper Gallery, NY. Copyright: Marc Domage.
The first section explores with works by Vito Acconci, Dan Graham, Richard Prince, Cindy Sherman, John Miller, Christian Marclay, Tony Oursler, Richard Kern, Patti Smith, Jutta Koether, Rita Ackermann ... the early 80s in the New York art and music scene of Punk and atonal noise-rock. During this time art-rock groups often exhibited in art galleries and lofts.
The second section is about the bands tour experiences: underground texts and various materials from William S. Burroughs, Allen Ginsberg, D.A. Levy, Thurston Moore, Lee Ranaldo, John Cage, Glenn Branca, ... give you an impression of the great open landscapes of the West and an insight into the life of the protagonists – beatniks, hitch-hikers and cowboys.
The third section illustrates Sonic Youth's time on the West Coast with works by Mike Kelley, Mark Gonzales, Spike Jonze, Todd Haynes, Dave Markey, Raymond Pettibon, Cameron Jamie, Kim Kordon, ... and will give you a view on Californian hardcore-punk of the 80s.
The fourth section of the exhibition shows works by artists working outside the US art scene, such as Gerhard Richter, Tacita Dean, Isa Genzken and Michael Morley.

The catalogue, distributed by Verlag der Buchandlung Walther König and published by Museion and LiFE, will be available in German, Italian, French and English (748 pages). Two 7-inch vinyl records are included in the publication. Each side has been created by a member of the band. The authors of the essays are: Corinne Diserens, Elein Fleiss, Kim Gordon, Roland Groenenboom, Richard Hell, Carlos van Hijfte, Mike Kelley, Jutta Koether, Alan Licht, Lydia Lunch, John Miller, Gene Moore, Thurston Moore, Aaron Mullan, Lee Ranaldo, Steve Shelley, Sonic Youth, Paul Sztulman, Mike Watt and Christophe Wavelet.
Concert on 10 October by the members of the band (Thurston Moore: guitar and vocals; Kim Gordon: vocals, bass, guitar; Lee Ranaldo: guitar, vocals; Steve Shelley: drums) in Bolzano; on 11 October they will be performing at a concert as part of the transart festival. Sonic Youth has published 27 albums and more than 40 singles, the band has also created several soundtracks. Check out details www.museion.it


more culture>>>


fig.: Sonic Youth DV '69 (Lee's Truck), 1985 B/W photographic print 40,5 x 51 cm Courtesy of the artist.
The photo was used for the cover of Sonic Youth's third album EVOL (released 1986) and was made on the set of Death Valley '69, a movie directed by Richard Kern (born 1954 in US) in 1985.
Kern has discovered Lung Leg (born 1963, US), the star of his film 'You Killed Me First' and the cover model for Sonic Youth's EVOL album. You can see her on this photo: she is the young girl. Find out more about Richard Kern en.wikipedia.org/wiki/Richard_Kern.