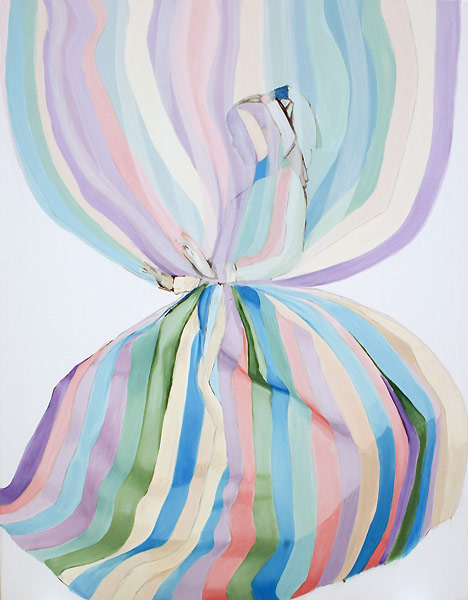 Tasha Amini: Paintings

8 November - 23 December, 2008
D'Amelio Terras, New York www.damelioterras.com


The Mirroring Bow


British artist Tasha Amini, born 1970 in London, will be presented with four of her new paintings from November through December 2008 by D'Amelio Terras in New York.

Amini's paintings often originate from photographs taken from her personal archive.

fig.: Tasha Amini, Untitled, 2008.
27.56 x 35.43 inches (70 x 90 cm), acrylic on canvas.
Fabrics, pattern like stripes and especially the bow are symbolic elements in Amini's work. The reflection of the stripes of the woman's skirt on the picture of this site seems to connect the earth with the ceiling. The rays raise from the center of her body and sculpture the pastel colored stripes into a bow.

The woman holds her hands against the earth, parallel to the rays of her skirt. It looks as if she celebrates a mystical ceremony which involves her in a charismatic light.

In two other presented paintings a woman sits in a wheelchair in front of a window looking into the pastel colored sun rays which are floating into her room.

Amini's work is left open to interpretation; it belongs to the painting you are looking at: the viewer can become the witness of the strength of femininity or read a sensitive story about vulnerability.
In March 2008 Neal Brown wrote in his article "Material women" on www.thefirstpost.co.uk: "It looks like there's a quiet struggle going on between optimism and despair in these sensitive new paintings by Tasha Amini. The artist's subject is femininity, ..."
Check out the four paintings by Tasha Amini www.damelioterras.com


more culture>>>


About Tasha Amini
From 1992 to 1995 Tasha Amini studied painting at Central St. Martins, London. Today she is represented by Kate MacGarry Gallery in London. Her solo exhibitions include two shows at Kate MacGarry and a show at Jack Hanley Gallery in Los Angeles. Amini was selected by Matthew Higgs and Marc Camille Chaimowicz for inclusion in the 2007 East International Biennial at the Norwich University College of the Arts in Norwich, United Kingdom.