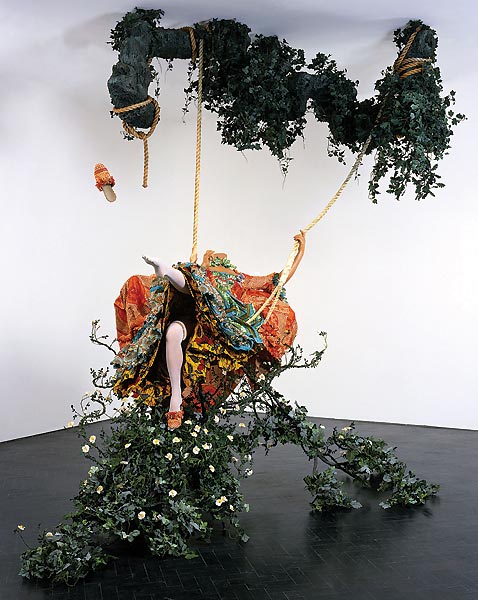 Yinka Shonibare MBE
24 Sept 2008 - 1 Feb 2009
MCA, Museum of Contemporary Art, Sydney www.mca.com.au

26 June - 20 Sept 2009
Brooklyn Museum of Art in New York

11 Nov 2009 - 7 March 2010
National Museum of African Art, Smithsonian Institution, Washington DC from
Discussion: On 26 September 2008 Yinka Shonibare MBE will discuss his art practice with MCA Senior Curator Rachel Kent; check out details www.mca.com.au/events


African contemporary identity and the legacy of European colonialism in the present
British-born Nigerian artist Yinka Shonibare MBE's work (painting, sculpture, large-scale mixed media installations, photography, and most recently film) of twelve years about African contemporary identity and the legacy of European colonialism in our days will be presented in a traveling exhibition starting in Sydney, before it comes to New York and Washington during the next two years.
The "Dutch wax" fabric is a material you will find used as a symbol in Shonibare MBE's work. The artist seeks playfully stimulating the debate about culture, authenticity and issues of identity today. Therefore he links his practice to theoretical concerns centred upon social class and aesthetics - such as the 'Dutch wax' fabric.

fig.: The life-size fibreglass mannequin wears Dutch wax printed cotton.
Yinka Shonibare, MBE "The Swing (after Fragonard)", (detail), 2001. Mixed media Tate. Purchased 2001. Image courtesy of the artist, Stephen Friedman Gallery, London and James Cohan Gallery, New York. © the artist. Photo: Ahlburg Keate Photography.
The exhibition was curated in Sydney at the MCA in close collaboration with the artist.
"This is a real coup for the MCA to have secured our exhibition to tour to two of the world's most respected institutions. It is testament to the calibre of our curatorial team and represents a first for our expanding touring program," MCA Director Elizabeth Ann Macgregor.
MCA Senior Curator Rachel Kent: "This exhibition is an international first, representing Yinka Shonibare's most comprehensive exhibition to date. It presents a unique insight into one of the most acclaimed artists working across cultures today."


more culture>>>


Yinka Shonibare MBE (born in London in 1962) moved to Lagos, Nigeria, at the age of three. He returned to London to study Fine Art, first at the Byam Shaw School of Art, London, and then at Goldsmiths College, London, where he received his MA. He has exhibited in leading museums worldwide and participated in seminal exhibitions such as: 'Sensation', Royal Academy of Arts, London (1997); 49th Venice Biennale (2001); 'Documenta 11', Kassel, Germany (2002); 'Double Dress,' Israel Museum, Jerusalem (2003) touring; 'Double Dutch', Boijmans van Beuningen Museum, Rotterdam (2004) touring; 'Africa Remix', various venues (2005–6); 'Check- List Luanda Pop', African Pavilion, 52nd Venice Biennale (2007); 'Jardin d'Amour,' Musée du Quai Branly, Paris, France (2007) and 'Scratch the Surface', The National Gallery, London (2007). In 2004, Shonibare was nominated for the Turner Prize. In 2005, he was made a Member of the Order of the British Empire.
Catalogue: The exhibition is accompanied by a major monograph (224pp), a joint partnership between Prestel Publishing and the MCA. It features major essays by MCA Senior Curator Rachel Kent; American art historian Dr Robert Hobbs; a comprehensive interview between the artist and Dr Anthony Downey (UK); reproductions of exhibited and contextual works; and biographical information on the artist. Check out at www.mca.com.au.