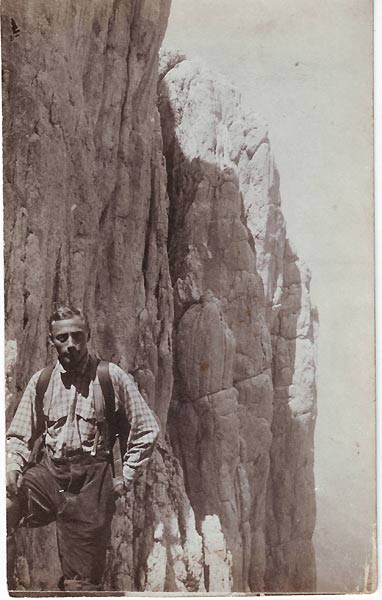 "HAVE YOU SEEN MY ALPS?"
16 December 2009 to 14 March 2010
Jewish Museum, Vienna
Fashion as
political instrument
The exhibition, organised by the Jewish Museum in Vienna and the Jewish Museum in Hohenems in Vorarlberg (Austria), takes visitors on a journey through the worlds of Jewish Alpinism and the development of the mountains for international tourism from Hohenems to Vienna, from Vienna to Switzerland and finally to Merano. The fascination of the Alps bears another story too; it's a journey through contradictions of assimilation and migration.
The history of the Jews in the Central European Alpine region goes back to the expansion of the Roman Empire, although Jewish communities did not settle in Alpine valleys until much later and remained a rarity.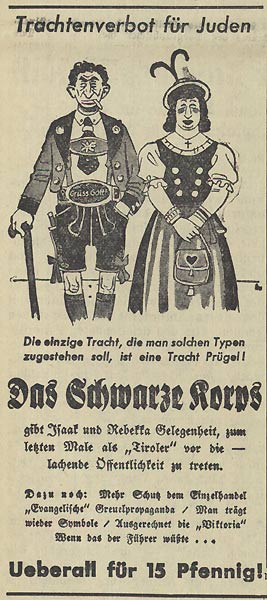 fig.: The Jewish alpinist Paul Preuss propagated free climbing at the beginning of the 20th century; around 1910, courtesy of Jimmy Petterson.

fig.: Cartoon about the ban on Jews to wear the Tracht. "Trachtenverbot für Juden", Völkischer Beobachter, 30. Juni 1938.
During National Socialism, Jewish people had to follow many inexplicable regulations such as not wearing the 'Tracht', the traditional clothing of the mountains. It was only one of many steps to make one political party (National Socialists) very powerful by stigmatizing selected groups like Jews or Gypsies. Even the field of fashion was one of the instruments to make Jewish Austrians quasi-'homeless'.
"The history of the Alps roughly and succinctly reflects the history of Europe, in other words our civilisation," wrote Arnold Zweig in Haifa in 1940 in his posthumously published book Dialektik der Alpen. Fortschritt und Hemmnis.


more culture>>>