JUNE UBS 12 x 12 PRESENTS EDRA SOTO
6 - 28 June 2009
The Museum of Contemporary Art, Chicago (MCA)
www.mcachicago.org


70ies feminine power re-installed today
UBS 12x12 is the title of the sponsor program of the Swiss financial firm UBS at the Museum of Contemporary Art in Chicago. In June 2009, UBS 12x12 presents the Puerto Rican, in Chicago living female artist Edra Soto with her installation about the female power of the 70ies in an re-interpretation that provokes to think about the past and present of femininity, South America's culture, and men.
The subject of reflection is the curvaceous Puerto Rican dancer, singer, and entertainer Iris Chacon who loved to perform in a g-string. In the 70ies and 80ies the sex symbol has got great attention with her show 'El Show de Iris Chacon' in around 15 countries, especially in Latin America, as well as in US cities such as New York, Miami, and Los Angeles. From the Internet Movie Database www.imdb.com/name/nm0149415/bio we learn that she "...was the first Hispanic entertainer to ever appear on the front page of the well-known newspaper 'The Wall Street Journal'" and that she "was the first Latin act ever presented in the famous 'Radio City Music Hall' in New York".
Artist Edra Soto's childhood memories of watching Iris Chacon in Puerto Rico inspired her to re-examine female sexuality and how this celebrity's image translates into American culture. Therefore she has selected one image where the female show star is surrounded by men in gorilla costumes to start her reflection about the history and presence of culture.
fig.: Edra Soto. Promotional Banner for the Inter-Continental Hotel, Ponce, Puerto Rico, 1960-1975.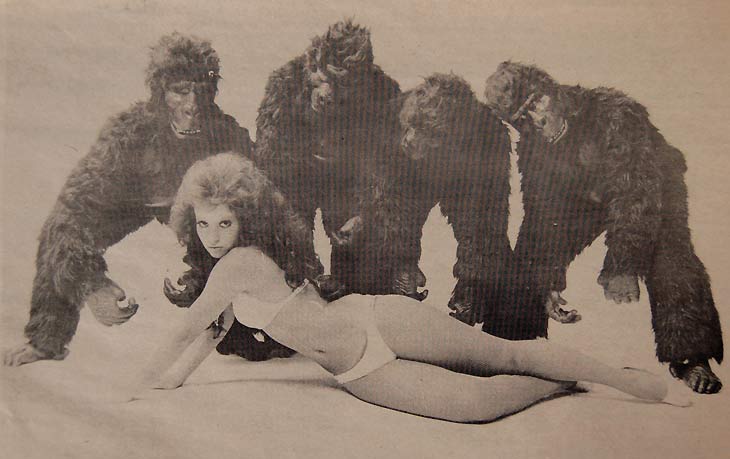 In the museum's gallery, Edra Soto has installed a stage. A drawing of El Show de Iris Chacon and a photograph from the show are hung on opposite walls of the stage. When viewers walk behind the stage, they find benches and the many guerilla portrait drawings of Soto created by her friends. On edrasoto.blogspot.com/ Edra Soto publishes portraits of her which had been created by over 30 invited artists with the aid of two photographs: one of herself and one of a gorilla.
In an interview from October 2008 Edra Soto says about her work: "Iris is both a mother figure and a dominatrix. But nowadays, Latino women on TV utilize their bodies as sexual objects, nothing more. My conclusion is that if a woman is going to represent her body, she should have a good excuse." art.newcity.com/2008/10/13/portrait-of-the-artist-edra-soto/

Edra Soto received her BFA from the Institute of Puerto Rican Culture, San Juan, in 1994 and received her
MFA from the School of the Art Institute of Chicago in 2000.


more culture>>>