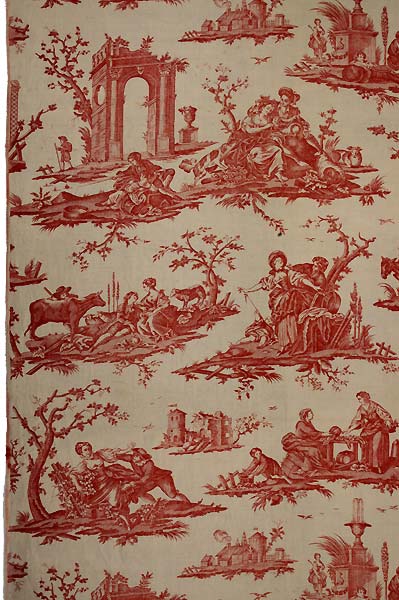 The Luxury of Print - The German Textile Museum Collection of European Prints on Fabrics
Prachtdrucke – Europäische Druckstoffe aus eigener Sammlung
1 February - 26 April 2009
German Textile Museum, Krefeld
(Deutsches Textilmuseum), Krefeld
www.krefeld.de/textilmuseum


Delightful scenes on Fabrics
of the 18th and 19th Century
For the first time, the German Textile Museum in Krefeld (Germany) exhibits its extensive collection of printed fabrics from Europe of the 18th until the 20th century.
Highlights of the exhibition are French fabrics from the 18th and 19th century where you can find sceneries from literature, opera or history. Fabrics under the title "Toiles de Jouy" and "Toiles de Nantes" became popular because of the art-inspired detailed prints of delightful scenes.
fig.: Decorative fabric, France, Nantes, around 1780-1785, Cotton, Copper plate print. (detail below)
In another section, textiles of the Arts- and Crafts-Movement from the late 19th century by artists such as William Morris and Lindsay Butterfield are shown.
Additional, dresses made of printed cotton and silk give an impression of the usage of these fabrics in the 19th and early 20th century. The table wear made of porcelain and glass from the Kaiser Wilhelm Museum collection is completing the impression of these times.
Although fabrics have been printed since the Ancient World, printed fabrics became in Europe not popular until the late 17th century with hightimes in the 18th/19th century during the industrial revolution simultaneously with technical and chemical innovations for new colors, dying methods and methods of printing.


more culture>>>