View Larger Map

To give a short impression from the place: it is said that the street 'Spiegelgasse' got its name from the mirror makers of the Middle Ages; the German word 'Spiegel' means 'mirror' in English. Today, art-craft, even with mirroring materials such as gem stones or gold, characterizes what happens in this street best. You will find many art-craft shops, jewellers, or antiques dealers in this area.
Jeweler Skrein & Hans Staudacher
fall 2009

Art-craft of
the middle ages
On 21th October 2009, jeweler Skrein invited to the presentation of the new 'Rocks' concept for rings, necklaces, ear rings, bracelets on occasion of the opening of the 'Art Mile Spiegelgasse' in the center of Vienna with an exhibition of the paintings of Hans Staudacher.
Jeweler Skrein from the Spiegelgasse number 5 uses modern techniques but in the tradition of middle ages goldsmiths: Alexander Skrein and around 6 goldsmiths are working on unique pieces. You will not find any series; each piece is made for individuals and handmade.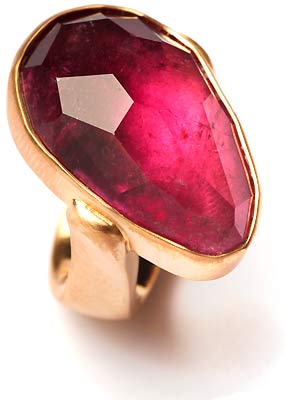 fig.: For the 'Rocks' pieces, customers can bring old stones or choose new ones of different colors to arrange them into a bracelet or necklace. The ring on this page is made of a rubellite in gold.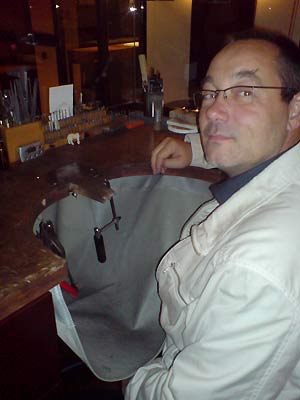 fig.:Goldsmith Christian Fail is one of the jewellery-artists at Skrein. He creates own unique design pieces which are available at Skrein and customizes for example stones in 'Rocks'-collection style for clients.

Christian Fail shows the working place of a goldsmith which stands in the center of the store. The grey sack is for the gold that falls down while creating new jewellery.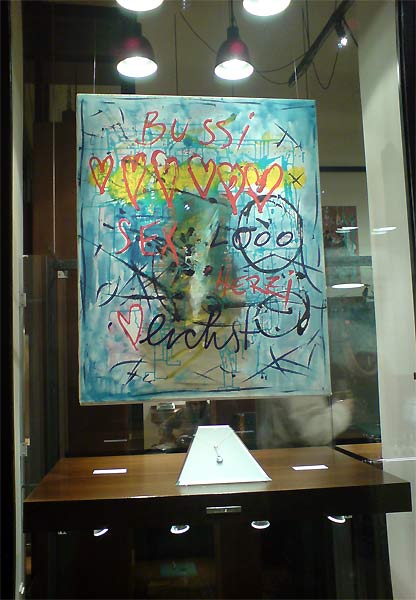 The second reason why Alexander Skrein has invited on this evening, was the opening of the 'Art Mile Spiegelgasse' with an exhibition of one of the most important contemporary artists of Austria, Hans Staudacher.
fig.: Painting by the Austrian abstract painter Hans Staudacher, born 1923 in Carinthia. In the 50ies, Staudacher became an active member of the Wiener Secession. He is known as a tachistic (Tachisme) painter. The paintings in Skrein's window displays show calligraphy; some of them with humour such as 'Blau - du auch' - means as much as 'Blue - you too' which has a double meaning in German language and is similar to the English 'blues' but is more about having drunken too much probably because of having the blues.
The painting on this page shows the lyrics 'Bussi - Sex - Herzi' ; free translated 'Kiss - Sex - Heart'.