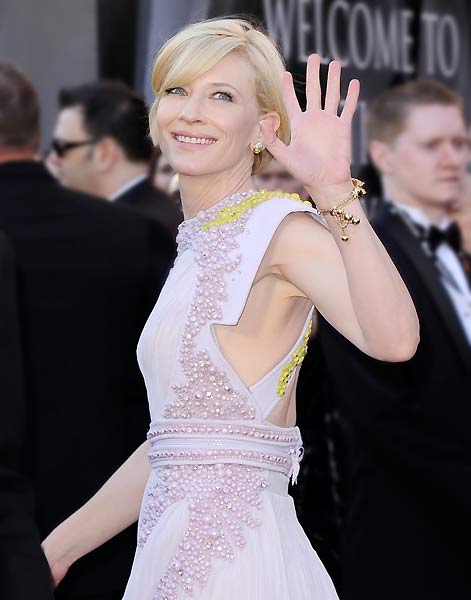 Cate Blanchett wears Givenchy and Van Cleef & Arpels at the Oscar Night on 27 February 2011 in Hollywood
Cate Blanchett in French Haute Couture and Joaillerie
On 27 February 2011, the French jeweller, perfumer and watchmaker Van Cleef & Arpels has applied some additional sparkle to Hollywood stars and Oscar presenters like Cate Blanchett or Robert Downey Jr. at the 83rd Annual Academy Awards in Los Angeles.
fig.: The Australian actress Cate Blanchett (born 1969, mother of three, Academy Award winner in 2005, has received five nominations during her career) in a gown by Givenchy, diamond bracelet from the Van Cleef and Arpels Private Collection (1946), earrings with oval fancy vivid yellow diamonds surrounded by white diamonds (1981, Van Cleef & Arpels). The picture shows her arriving at the 83rd Annual Academy Awards held at the Kodak Theatre in Hollywood, California. Photo: Kevork Djansezian/Getty Images; (C) 2011 Getty Images.
Video: Trailer of the new action movie 'Hanna' with red-headed Cate Blanchett in the role of an evil CIA agent, directed by Joe Wright, music by the Chemical Brothers (release April 2011). The story is about teenage girl Hanna (Saoirse Ronan) who is trained by her father to be the perfect assassin. On her way through Europe she is hunted by agents like Marissa Wiegler (Cate Blanchett). 'Hanna' starts in selected European, American and Asian countries in April 2011.