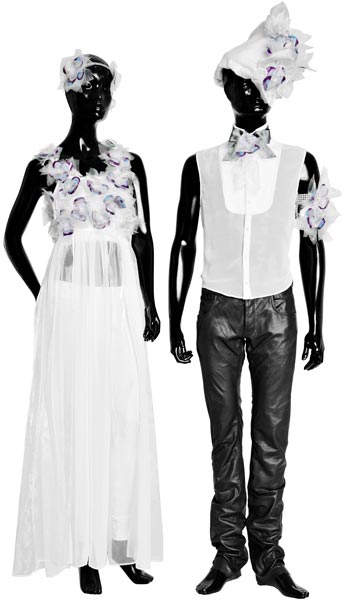 Love, sex and fashion at Life Ball in Vienna
Some days before the HIV/AIDS charity 'Life Ball' will be held on 31 May 2014 at Vienna City Hall, condom manufacturer Durex and Viennese fashion label Tiberius unveiled the collaborative promotion pieces via press release which carried the title 'With Durex safely through the Life Ball night!'. Durex is official Life Ball partner and uses the event for a fashionable statement for prevention and against HIV-infection under the motto 'Love, Sex, Durex'.
fig.: The image shows (left) a white long gown with Durex applications at the dress' top and on the hairband; (right) the tuxedo-shirt/trousers-like men's outfit with Durex condoms on the cravat, arm bow and on the headwear. The HIV/AIDS charity 'Life Ball' promotion outfits by Durex are designed by Tiberius. Photo: (C) Robert Lunak im Auftrag von Reckitt Benckiser.

Related articles: