Preview Austrian Pavilion at La Biennale di Venezia 2015, 2 January 2015

Heimo Zobernig - known for exposing the mechanisms of the art system and hierarchies, is this year's artist at the Austrian Pavilion in Venice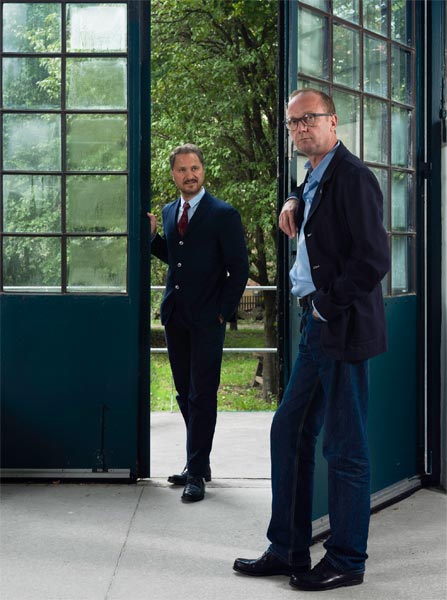 fig.: Curator Yilmaz Dziewior and artist Heimo Zobernig at the Austrian Pavilion on occasion of the presentation of their contribution to the 56th Biennale Arte di Venezia which will open its doors on 9 May and can be viewed until 22 November 2015. Photo: (C) Georg Petermichl.
La Biennale di Venezia is one of the most important places where curators and artists from all over the world question, debate, reflect upon and create new ideas for the world and its global society. The title of this year's Biennale Venice is 'All the World's Futures' and focuses on the revealing of the invisible structures that are causing the status quo (with and without changes) of today's society.
The choice of the curator and artist of the Austrian Pavilion is promising that visitors will find here some new inspirations. Curator of the Austrian Pavilion is Yilmaz Dziewior who organized as director of Kunsthaus Bregenz some of the most interesting exhibitions in Austria through the last years; from February 2015, Yilmaz Dziewior will manage as director the Museum Ludwig in Cologne. Dziewior has chosen Heimo Zobernig to stage the Austrian Pavilion 2015.
Heimo Zobernig's art can be described as intellectual (themes), minimalist (regarding the visual aesthetics) and ranges from painting, sculpture over video to architecture. He is known for combining various art techniques for the production of meaning and the involvement of the visitor via a quasi multi-media-experience-tour into reflections upon today's world such as upon specific topics like mechanisms of the art system or hierarchies.
Currently, curator Yilmaz Dziewior and artist Heimo Zobernig haven't released more information than the announcement that visitors are invited to experience an art intervention which stands in reciprocal communication with the historical architecture of the Austrian Pavilion (architecture by Robert Kramreiter and Josef Hoffmann, inaugurated in 1934).