7 July 2016
'Chamex Community Center' opened during the 4-days Arc'teryx Alpine Academy in Chamonix
From 16 to 19 June, the Canadian outerwear wear and equipment label Arc'teryx held the latest 'Arc'teryx Alpine Academy' in Chamonix Mont-Blanc, France.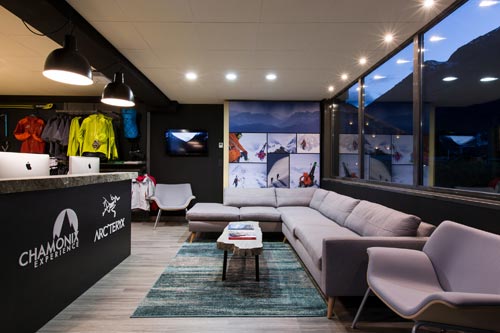 fig.: In time with the academy days with 360 participants from 21 countries, the French mountain guide company 'Chamonix Experience' opened it's new headquarters 'Chamex Community Center' in collaboration with Arc'teryx. The 'Chamex' is located at the bottom of the Aiguille du Midi cable car and is equipped with a lounge as well as clothing and equipment items by Arc'teryx. The lounge at the Chamex mountain guide office is a meeting point for alpinist, climbers, skiers to plan their routes in a community atmosphere with coffee, books and free WLAN.
Sébastien Rougegré, owner and head guide of Chamonix Experience developed the concept together with Arc'teryx: "It is a very professional set up with a large 1/25 000 map displayed on the main wall and a large selection of maps of the Alps."
The video shows insights into the practical on-mountain workshops and seminars held by alpinists, climbers, skiers around alpine themes. Chamex describes the academy on its blog as four days "...of climbing, bouldering and mountaineering with workshops on orientation, building shelters, nutrition, photography, acclimatisation and everything else you need to get out and explore the great outdoors."
It's announced that the next Arc'teryx Alpine Academy in 2017 is currently already in preparation.