27 November 2017

Austrian designer Thomas Poganitsch received blickfang Bern Design Award in the category Furniture & Product
From 24 to 26 November 2017, the traveling design fair 'blickfang' (German language countries Germany, Austria, Switzerland) presented fashion, jewelry, furniture,... in Bern, Switzerland. In the category 'Furniture & Product', Vienna-based designer Thomas Poganitsch won the 'blickfang Bern Designpreis' for the practical wall hooks 'Bird Swarm'.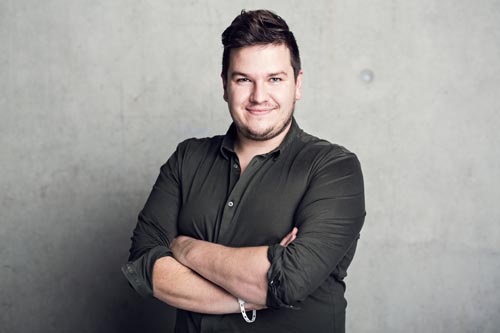 At the blickfang video, Thomas Poganitsch (image right) speaks about his design, introduces into the technical backgrounds such as that each of the ceramic birds can carry up to 25 kilogram or that they are made of weatherproof material for in- or outdoor usage. The artistic approach is developed from the idea to bring a lively, dynamic structure to the wall for mediating lightness. The wall changes its appearance with the light environment; the birds' shadows will react on the rays of the natural morning sun or the electric light in the evening differently.
"It's a new interpretation of the Vienna stucco," (translated from German) explains the prize winning designer the wall sculptures' feel good effects for at home by comparing the swarm design with stucco elements of traditional elegant Viennese interior architecture.
Photo: © blickfang.

Upcoming blickfang dates:
Cologne, Germany (19 - 21 January 2018)
Hamburg, Germany (2 - 4 February 2018)
Stuttgart, Germany (16 - 18 March 2018)
Basel, Switzerland (4 - 6 May 2018)
Vienna, Austria (26 - 28 October 2018)
Zürich, Switzerland (9 - 11 November 2018)
Bern, Switzerland (Autumn 2018)