16 January 2018

Best fashion & beauty destinations received Enjoy Awards 2018 by Shopping Guide Austria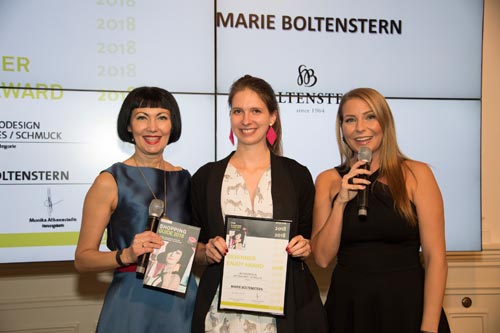 On occasion of the launch event of the 13th edition of the annual Austrian 'Shopping Guide' with strong focus on Vienna's best fashion stores and beauty destinations, the Enjoy Award 2018 winners in more than 20 categories were presented. One of the winners is jewelry designer Marie Boltenstern, head of design of Boltenstern. The label was founded 1964 by her father Sven Boltenstern who became famous for luxury jewelry. Marie Boltenstern derives her designs from new technologies and is specialized in precious metal 3d printing. At the embedded video (posted in October 2017), Marie Boltenstern explains how the jewelry pieces are developed and produced. For the Vienna Opera Ball 2016, Marie Boltenstern designed the Swarovski crowns of the debutantes (Vogue article with video). Boltenstern won the Enjoy Award 2018 in the category 'Austrodesign Accessories / Jewelry'.
fig. from left: 'Shopping Guide' author Irmie Schüch-Schamburek, Marie Boltenstern and presenter Carina Schwarz at the Shopping Guide 2018 launch and Enjoy Awards event on 12 January 2018 at ViennaBallhaus, Berggasse 5 in the 9th district of Vienna. Photo: Gregor Turecek for Dodge and Burn.
Other Enjoy Award winners are the new Karl Lagerfeld store at Kohlmarkt, Vienna (category 'Women / Luxury'), or Peek & Cloppenburg at Kärntnerstrasse, Vienna (category 'Department Stores & Shopping Center'). The winners are selected from around 1.000 entries which can be found at this year's 'Shopping Guide'.