JIRl KOLÁR Poem or Picture 28 March - 24 April 2003) www.hilger.at: Galerie Ernst Hilger is showing a retrospective of the Czech poet and collagist Jirí Kolár, who died last summer at the age of 89. Jirí Kolár was the most important Czech artist of the 20th century. fig.: Chapeau magique 1973 Collage sur object more culture>>>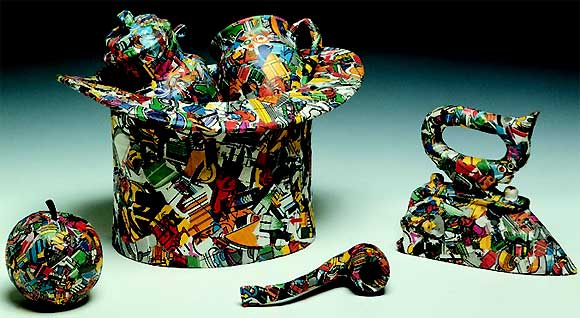 Through his international single exhibitions and his participation in exhibitions at the most important art galleries and museums throughout the world his style of presenting and expressing art has become an established feature in art history. The exhibition is a selection of collages and smaller three-dimensional works in space of the highest museum quality, covering the period 1960 to 1990. Already two years ago, we were able to show some of his important works, in cooperation with the Egon Schiele Centrum at Krumlov. The works shown now will also be exhibited in a single presentation at Art Basel.
Jirí Kolár was born in Protivin, Czech Republic, in 1914. In the forties, he was member of "Art Group 42". His publications and his public negative statements regarding the political regime ultimately led to prolonged prison sentences (in the fifties). Until 1989 the artist lived in Prague, he then went into exile in Paris. The artist, who maintained a highly active mind until the end, spent the last years of his life again in his home country.
Jirí Kolár published 10 monographies, 10 anthologies, children's books, catalogues, etc. Furthermore, we have before us a very voluminous œuvre of pictures. A ban was imposed on the export of his works which were declared to be part of the Czech national heritage.
The artist was known for his inventive spirit and his literary œuvre, for which he was also acclaimed by his colleagues. When producing collages, this constituted for him a correlation and supplement to his work with language. Collages and poems were special intellectual moments in his life, which took place immediately before putting a poem on paper or making a collage. These were two options of putting his intellectual perceptions into concrete form. The pencil is exchanged against scissors, old newspaper and glue. The collages show pictures, reliefs and objects. The style and the design method were adapted according to the conditions of or the statement in every specific case. Innovative artistic techniques were the result which – through the interaction of giving them a title – again picked up language as an artifact (rolaz, prolaz, muchlaz, chiasmaz, asamblaz, stratefy).
The artist created some uniformity by producing the same surface structure for the printed paper. It irritates the viewer that the artist refuses to endow objects with their own material nature. Jirí Kolár draws the viewer's attention to the essential point, to his artistic action. The quotations from different periods in art history demonstrate his particular sense of humor and wit, as well as his irony.