AFSHIN FEIZ fall/winter 2008/9

Afshin Feiz presented for the second time at London Fashion Week in Feb 2008. The years before he was showing at New York Fashion Week. Check out the movie from the London Fashion Week - On|Off 11-15 February 08 >

Afshin Feiz created a strong and futuristic vision under the title COCOON.

The title is taken from his first winter collection in New York which was inspired by butterflies and their "... symbolism in Persian poet Rumi's poetry. The butterly is attracted by the flame of a candle. She is the lover who is drawn to her beloved, only to get her wings burnt."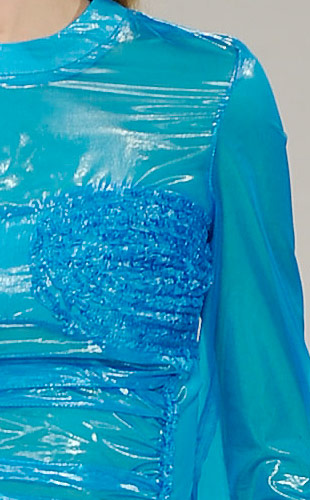 Four years later Feiz re-examines this theme. But Afshin Feiz' woman has a darker mood this year, her appearance is stronger. The fabrics are thicker and black is predominant in the collection with touches of colour in hard reflective metallics and bright electric satins. The bright coloured ruffled blouses and dresses represent the full grown butterflies. Feiz creations are for a feminine woman who loves details, who loves change.


Feiz grew up all over the world, mostly in England, with base in Paris for the past 15 year. Feiz attended fashion school Studio Berçot, studied French Literature at Reed College in Portland, Oregon in the United States before moving to Paris. He has even shown his collections in New York during the Olympus Fashion Week.

photo: (c) catwalking.com