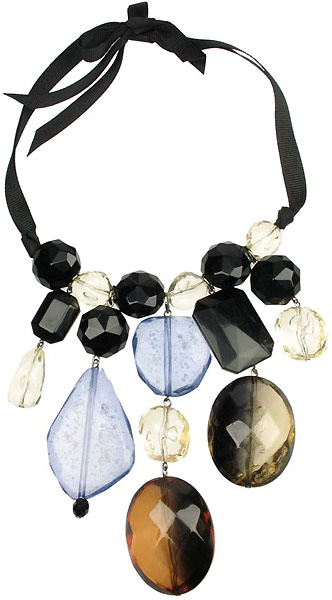 ANGIE GOODERHAM
spring/summer 2009


Nature, Ethnic, and Seasonal Fashion Trends
Angie Gooderham's new spring/summer 2009 collection is inspired by seasonal fashion trends, nature and ethnical experiences the designer has made on her travels through the world: from warm African colors to Indian turquoise, natural tortoise and exclusive sapphire.
Some of her most successful designs are drawn from a wealth of life experiences, travelling the world, spending time with people from many different cultures. She is inspired by the creativity and bold use of colour seen in remote parts of the world, as well as by the soft balance of colour found in nature. She is also inspired by the seasonal clothes trends to create pieces that complement and enhance the outfit as a whole.
"Our careful approach to research based on catwalk shows and colourway predictions results in our exclusive range seamlessly incorporating the use of seasonal colours, textures and shapes."
Angie Gooderham jewellery is selected by high fashion titles such as Vogue, Harpers Bazaar and Marie Claire as well as for editorials in newspapers and on television.


more design>>>


About Angie Gooderham
Angie Gooderham started designing jewellery over 20 years ago, initially operating from a small room in her Herefordshire home. The company travelled world wide with Angie - at times the sales office was the back of a motor bike in New Zealand, or the streets of San Francisco in the 70s. Today, the business consists of a small and dedicated team.
Angie Gooderham jewellery is available in selected boutiques and department stores in the UK such as Harvey Nichols and Fenwick Bond Street in London as well as across the world from Europe to Hong Kong.
In early 2008 Angie Gooderham launched her first online shop, where customers are now able to shop directly for products online, gaining access to special collections and promotions unavailable elsewhere
www.angiegooderhamstore.com.